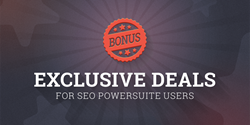 Link-Assistant.Com has cut the ribbon on the new User Perks marketplace - a page where SEO PowerSuite users get special offers for leading online marketing tools and services
(PRWEB) November 18, 2014
Link-Assistant.Com, the company behind the SEO PowerSuite toolset, has cut the ribbon on the new User Perks marketplace - a page where SEO PowerSuite users get special offers for leading web development tools, click tracking services, email productivity software and infographic creation tools.
SEO PowerSuite license holders can get anywhere from 25% to 50% off the products on the User Perks menu, while some partners offer extended free trials on their services.
*The Current List of SEO PowerSuite User Perks*
Among the current User Perks available to SEO PowerSuite subscribers are:
1. Typeform Pro - 50% off for 3 months
Typeform is a service that lets one design smart-looking online forms and web surveys.
2. Mouseflow - 1 month free
Mouseflow is a click tracking service that provides insight into what visitors do on a particular site.
3. StoreYa - 25% off the first payment
StoreYa is a social commerce platform that allows one to launch and promote a Facebook shop.
4. Learnable - 32% off the annual subscription
Learnable is a web development learning center that includes books and courses on this topic.
5. Medialoot - 1 month free
Medialoot is a collection of graphic design resources under one roof: icons, fonts, templates, etc.
6. Yesware - 2 months free
Yesware is email productivity service that lets marketers "find out what happens after they click Send".
7. CrazyEgg - 60 days free
CrazyEgg is a heat-mapping tool that helps one increase website conversions.
8. Designmodo - 25% off all products
Desigmodo offers Bootstrap frameworks and WordPress themes to create a website with.
9. Piktochart - a 60-day free trial
Piktochart is a collection of neat inforgraphic creation tools and templates.
10. Front – 2 months free
Front is a collaborative inbox service that allows marketers to work as a team via email, tweets or SMS.
One can review and unlock these SEO PowerSuite User Perks at http://www.link-assistant.com/perks.html.
*About SEO PowerSuite tools*
SEO PowerSuite is a software pack by Link-Assistant.Com that includes 4 award-wining search engine optimization tools:
Rank Tracker, a keyword research and a keyword tracking app;
WebSite Auditor, an on-page audit and optimization tool;
SEO SpyGlass, backlink analysis and comparison software;
LinkAssistant, a link outreach and verification app.
SEO PowerSuite tools are sold separately or as a pack and come in Free (with some functionality limitations), Professional and Enterprise versions.
*About Link-Assistant.Com*
Link-Assistant.Com is a software developer with nearly a decade of experience building SEO tools for bloggers, online entrepreneurs and marketing agencies. Launched in 2005, the company's best-known SEO toolkit, SEO PowerSuite, is reportedly used by every 3rd SEO professional in the world.
The company has recently updated user experience for the French-speaking users of SEO PowerSuite, with the new version of its French site, seopowersuite.fr, released not long ago.