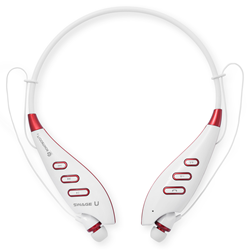 Rokit Boost Offering Affordable Mobile Accessories with Holiday Discount Special
New York, NY (PRWEB) November 19, 2014
The holiday season is around the corner, and Rokit Boost seeks to liven up everyone's holiday spirit with mobile accessories that deliver great value but don't break the bank. For a limited time, Rokit Boost customers will be able to redeem an online coupon for a 15% discount and free shipping.
The process is simple. To attain these great savings, consumers just visit RokitBoost.com, select the product offerings for purchase, and then use the listed coupon code. Rokit Boost will be offering this holiday discount special from now until Christmas Day on Thursday, December 25, 2014 at 11:59pm.
Exceptional Bluetooth Headphones on the Market
Over the past few months, Rokit Boost has released new, high-performance consumer electronic products which take users' mobile experience to the next level. One of its new product releases, the SWAGE U Bluetooth headphones stand out with their premium comfort, lightweight design, seamless listening experience, and solid functionality. The equipped Bluetooth V4.0 technology allows for easy wireless pairing with the iPad, Samsung Galaxy, MacBooks, Kindle, and almost any other Bluetooth-enabled device. With their innovative design, the SWAGE U Bluetooth headphones are engineered to provide users with hours of comfortable use.
Effortless operation is made possible with the SWAGE U's easy mode switching, and the headphones' built-in microphone and hands-free dialing allow for easy communication. A specialized connection lets users connect to two devices at the same time. On top of these features and more, the SWAGE U wireless headphones last for as many as 8 hours of playback time and 100 hours of standby time per charge.
Other Premium Mobile Accessories
Rokit Boost also offers a full line of other hot mobile accessories, including customer value-laden smartphone battery cases, power banks, wireless speakers, and Bluetooth keyboards. In accordance with Rokit Boost's commitment to customer satisfaction, these great-performing products come with a 1-year warranty and a 30-day money back guarantee whereby certain conditions apply.
For more information, please visit http://www.rokitboost.com.
About Rokit Boost
Rokit Boost is a pioneer of affordable, high-quality mobile accessories. Whether they are innovations including iPhone charger cases, Bluetooth headphones, or wireless Bluetooth speakers/microphones, Rokit Boost's team seeks to add substantial enhancements to great existing products. The company also offers a refurbishment program of certified products for exceptional customer value, at reduced pricing.