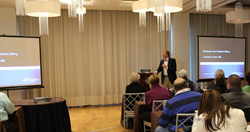 Oceanside, New York (PRWEB) November 19, 2014
Last weekend, ICS Software, Ltd. hosted two clinical tracks and a hands on SammyEHR Computer Lab workshop at the Allegria Hotel in Long Beach NY.
Speakers included Dr. Laurence Clark (Medical Director of NGS Medicare), Dr. Alan Jacobs , Dr. Warren Joseph, Dr. Paul Kesselman, Dr. Bryan Markinson, Dr. Michael Warshaw, Dr. Michael Brody, Matthew Feldman JD. and Warren Melnick JD,.
The conference focused on Evidence Based Medicine, Quality of Care, Practice Management and the new paradigms that need to be utilized to have a healthy practice in 2015 and beyond.
In addition to the lecture track, a hands on workshop was provided by Dr. Markinson on biopsy techniques for the doctors and a hands on workshop on Meaningful Use Stage 2 was provided for office staff and assistants.