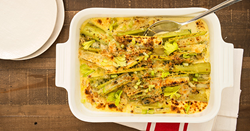 The Celery Gruyere Gratin is a celebration of one Julia Child's favorite vegetables that puts celery center stage…and contains all the buttery, creamy, cheesy goodness we love…in a light way
SOLEDAD, CA (PRWEB) November 19, 2014
Don't throw out those broccoli stalks or radish tops! There's a whole new game in organic vegetable cooking, and Josie's Organics has got it…just in time for the holidays!
Josie's Organics, one of the country's leading organic vegetable brands, today released its Holiday 2014 Recipe Collection, which celebrates all parts of organic vegetables – from root to leaf. Created by food and lifestyle expert Chadwick Boyd, the dishes have all the flavors we love and crave during the holidays – like cinnamon, red wine, cheese and butter – yet are light and simple to prepare. Not only do they taste great, they are sure to be showstoppers on the family or party table, too.
"I am deliciously excited to share these recipes, especially with moms who are looking for fresh, inspired side dishes this holiday for their special family gatherings," says Boyd. "The dishes are modern yet easy – with a few fun twists. They take little time in the kitchen to prepare and are sure to dress up a traditional turkey, ham or other main dish."
The 2014 Josie's Organics Holiday Recipe Collection includes:

"I am particularly proud we encourage the use of the whole vegetable in our recipes. It's an excellent way to extend the quality and care we put into farming our organic vegetables to families' dinner tables across the country – especially at holiday time," says Rod Braga, CEO and chief farmer of Josie's Organics.
The holiday recipes can be easily downloaded and shared from josiesorganics.com/recipe-categories/holiday. They are accompanied by full-color photos to help cooks follow along in the kitchen and have bonus tips to "dress up" the dishes. Josie's Organics loves being engaged on social media and encourages followers to interact this holiday season by uploading and sharing their versions of the Holiday 2014 recipes on Instagram or Twitter @josiesorganics and on Facebook at facebook.com/JosiesOrganics.
The Josie's Organics product line, grown by Braga Fresh Family Farms, includes leafy-green romaine hearts and other lettuces, kale and chard, broccoli, sweet baby broccoli, celery, beets, radishes and herbs. Josie's Organics are available at Whole Foods, Kroger stores, HEB, Safeway, and Central Markets, and other grocers throughout the U.S. and Canada.
###
About Braga Fresh Family Farms:
Braga Fresh Family Farms sells organic and conventional fresh vegetables to the retail market under the labels Josie's Organics, Fresh n Healthy, and Golden State Broccoli. Braga Fresh is part of the vertically integrated Braga family of farming companies, headquartered in Soledad, California since 1928 and still led today by third-generation farmers producing in California and Arizona. For more information call (831) 678-3835 or visit bragafresh.com. For consumer information about Josie's Organics visit: josiesorganics.com, facebook.com/JosiesOrganics, or twitter.com/josiesorganics.
About Chadwick Boyd:
Chadwick Boyd is a food and lifestyle expert dedicated to helping people live a lovely and delicious life. He can be found on national television, at food festivals around the country and on Facebook, Twitter and Instagram, sharing tips and inspirations for millions of consumers. Chadwick has appeared on Katie, Better, CBS, FOX, NBC, Lifetime and other networks, and serves as a food television expert for Better Homes and Gardens. For more information, go to lovelyanddelicious.com.