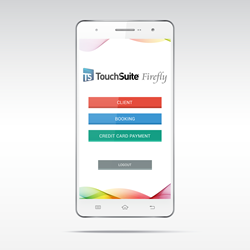 Boca Raton, Florida (PRWEB) November 19, 2014
TouchSuite, one of America's leading and fastest-growing technology companies, has launched the first mobile application for users of its Firefly point of sale solution. The Android-based application allows business owners and their staff to manage primary operations and execute customer transactions from anywhere.
The Firefly and its corresponding application are customized primarily to support salon and spa stylists who require a portable solution that allows them to easily execute client transactions from anywhere within the salon and allows them to run their business beyond salon walls. With the app, users will be able to accept mobile payments, view, edit and book appointments, access and update client accounts, and upload images to the Firefly's integrated social media suite for instant Facebook, Twitter and Pinterest posts.
The Firefly mobile application is setup-free as it works in sync with existing Firefly systems to improve efficiency and ease business operations. A free mobile credit card reader is also available through TouchSuite for clients that wish to take advantage of its payment transaction capabilities. Future versions of the Firefly are currently in development and will be tailored for other customer-service focused businesses such as retail establishments.
The intuitive Firefly point of sale system packs unprecedented performance into a sleek, modern unit, equipped with an integrated credit card reader, built-in speakers and plenty of USB and serial-based ports. Designed as a seamless, single-unit solution, the system converges key business tools and solutions, including online booking and appointment setting, client database management, document management, an advanced, comprehensive marketing suite, social media integration, inventory control and accounting reports, and now, mobile accessibility and synchronization. The application can be downloaded from Google Play at: https://play.google.com/store/apps/details?id=com.touchsuite.stylist
About TouchSuite: TouchSuite is one of America's leading technology companies focused on the electronic payment space and has been honored six times on Inc. Magazine's list of the 500 fastest growing private companies in America. Its award-winning, patented point of sale systems are fully integrated with payment processing and credit card services catering to restaurants, salons and spas. The systems are designed to help small- and medium-size merchants increase revenue by using the provided tools and solutions. The company's latest salon POS system, Firefly, offers the most advanced salon software on the market to-date, including full mobile capabilities. TouchSuite's sales infrastructure provides merchants and agents with an unprecedented 24/7 support system and ensures a positive user experience. TouchSuite is headquartered in Boca Raton, FL. For additional information about TouchSuite, its company and services, please visit http://www.TouchSuite.com.