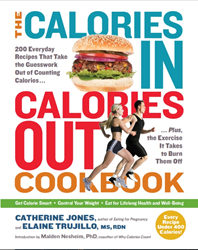 The perfect time of theyear for making soups and this book has some amazing recipes! Two of my personalfavorites are Quick Zucchini-Basil Soup and Perfect Pumpkin Bread. Hello? It's Fall. Whodoesn't want 'comfort' food sans the guilt? Feathered Quill
Bethesda, MD (PRWEB) November 19, 2014
On Thanksgiving Day, even the most distended belly can usually find room for that last bite of deliciousness. What does mean in the calories arena? Let's just say one of the things to give thanks for is the fact that Thanksgiving only comes once a year. The good news is that most folks only gain a pound during the holidays. The not-so-good news is that, according to a report in The New England Journal of Medicine, many don't ever lose that pound of weight. And, for people who are already overweight, the news gets a bit bleak. One study found that overweight people gained five pounds or more during the holidays.
How does this calorie and weight gain equation work with Thanksgiving? Simple math will explain the energy balance equation. For starters, one thing roasted turkey does have in its favor is a low calorie count. Four ounces of white meat without skin is only 150 calories. The Thanksgiving sides and desserts are where things can quickly get out of hand. Here's a calorie lineup for some typical Thanksgiving dishes: 500 calories in 1 slice of pecan pie; 450 calories for 1 cup of sweet potato casserole; 300 calories in 1 slice of pumpkin pie without whipped cream (which is almost impossible); 250 calories in a slice of cornbread; 240 calories for 6 ounces of spoon bread; 240 calories for 1 cup of mashed potatoes; 200 calories for 2 ounces of stuffing; and 170 calories in one flakey 2-ounce biscuit.
You'll see that this epic feast clocks in at around 2,500 calories. Even just half of it is about 1,250 calories. And, this does not include the wine, which averages 120 calories per 5-ounce glass. Those are the calories in, now here are the calories out: for a 160-pound person to burn off 2,500 calories will require 287 minutes of jogging or 401 minutes of walking at 4 mph. How to reduce these numbers? Watch what you eat and how you cook. You'd be surprised at how many calories you can eliminate without losing any flavor at all.
Here are some cooking tips to get you started: Use 2% milk instead of cream or half-and-half. Use a minimal amount of butter or oil and add a touch of water if needed to prevent sticking. Add flavor with fresh herbs, spices, and gourmet salts. Go easy on any cheeses. When baking, choose recipes that are more fruit-centered and less batter or crust heavy. Cut back on the sugar amounts in all recipes. Try to substitute some of the butter or oil in a batter with a fruit puree, such as applesauce. For crusts, you can try substituting some of the butter with thick Greek-style yogurt.
As Catherine Jones says, "Perhaps the most important thing is portion control and moderation. Yes, it's hard to practice these things when the purpose of Thanksgiving is to give thanks and blessings for a bountiful harvest. But it's also possible for you to have your gravy and stuffing and pecan pie and eat it, too." The following collection of sides and desserts from the [The Calories In, Calories Out Cookbook is loaded with fall harvest flavors, but light on calories. Brussels Sprouts with Parmesan and Pine Nuts: 3 ounces 118 calories; Cheesy Southern-Style Spoon Bread: 6 ounces 127 calories; Sweet-and-Sour Red Cabbage 143 calories; Poached Pears with Spices 96 calories; Walnut Cranberry Biscotti 84 calories; Perfect Pumpkin Bread 222 calories; and Rustic Peach-Blueberry Tarts 242 calories.
CATHERINE JONES is the award-winning author or coauthor of numerous cookbooks including Eating for Pregnancy, and, with Elaine Trujillo, Eating for Lower Cholesterol. She is the co-founder of the nonprofit Share Your Calories, an app developer, blogger, and freelance journalist. ELAINE TRUJILLO, MS, RDN, is a nutritionist who has years of experience promoting nutrition and health and has written numerous scientific journal articles, chapters and textbooks.