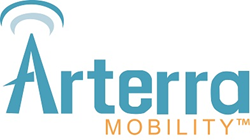 Our solution delivers what no other enablement and aggregation platform can do today, across multiple networks and wireless technologies, on major carriers in the United States, said CEO and founder Daniel Neal.
MCLEAN, Virginia (PRWEB) November 19, 2014
Arterra Mobility® (http://www.arterra.com) announced today it is the first Mobile Virtual Network Enabler (MVNE) and Mobile Virtual Network Aggregator (MVNA) to offer the ability to provide real-time rating and charging for 4G LTE mobile data on two out of the four major carriers, including both CDMA and GSM networks.
This capability provides Arterra customers with an immediate cost-savings opportunity on data leakage from latent processing of 4G LTE Internet Protocol Detail Records (IPDRs). Data leakage can cost MVNOs up to 20 percent more in network usage, depending on the demographic profile of the subscriber base and price plans offered by the MVNO, simply due to two to four hours of latency in carrier data usage reporting. Arterra's platform reduces this leakage to negligible amounts with in-house technology designed to protect our customers.
"We are pleased to use our patented technology to offer both cost savings and an improved customer experience to our clients," said Daniel Neal, CEO and founder of Arterra Mobility. "Our solution delivers what no other enablement and aggregation platform can do today, across multiple networks and wireless technologies, on major carriers in the United States."
Arterra's robust data platform provides a full suite of patented data management capabilities, including white listing of IP-based or URL-based data traffic, sponsored content opportunities, and mobile policy controls. MVNOs are able to leverage the platform to create unique and differentiated offerings in the marketplace, highlighting their core services or content as an included part of the service, and increasing the value delivered to their subscribers.
As a Mobile Virtual Network Enabler (MVNE), Arterra Mobility has a long history of building competitively differentiated services and systems for its clients. Arterra Mobility expertise goes beyond typical BSS/OSS-focused MVNEs. By molding raw network capabilities and proprietary network design into unique and elegant customer-facing solutions, Arterra Mobility helps its clients create award-winning services that accelerate their customers' go-to-market plans and position them to compete successfully in the marketplace.
The Arterra Mobility MVNE/MVNO/MVNA solutions enable its clients to deploy a custom wireless solution under their own brand with rapid time-to-market, the lowest possible capital expenditure, and the lowest total cost of ownership. Arterra Mobility provides full wireless service lifecycle support, including product design, implementation, testing, deployment, service management and service optimization. The full Arterra Mobility suite of services includes real-time rating and controls; data filtering; mobile walleting and location services; custom web interfaces; CRM and customer self-care; carrier integration; distribution and payment support; multi-language customer care; and forward and reverse logistics. Even experienced telecoms can take advantage of the proprietary patented technology of Arterra Mobility; capabilities and expertise that extend through the entire value chain; and its existing integrations with both CDMA and GSM major wireless network operators.
About Arterra Mobility®
Arterra Mobility, through its MVNE, MVNO and MVNA solutions, helps companies to develop, launch, and optimize their wireless services and embedded devices faster and more cost-effectively than anyone else. Arterra Mobility powers a wide range of innovative wireless services and embedded devices with its highly-scalable, carrier-grade service platform that provides multi-carrier network services, OSS, BSS, e-commerce, logistics support, customer care, patented proprietary mobile policy controls and mobile wallets and marketing support. Arterra Mobility is a division of Kajeet, Inc. The Arterra Mobility service platform is protected by the following patents 8,774,755; 8,774,754; 8,755,768; 8,731,517; 8,725,109; 8,712,371; 8,706,079; 8,667,559; 8,644,796; 8,639,216; 8,634,803; 8,634,802; 8,634,801; 8,630,612; 8,611,885; 8,600,348; 8,594,619; 8,588,735; 8,285,249; 8,078,140; 7,945,238; 7,899,438; 7,881,697 and other patents pending. For more information about Arterra Mobility, please visit http://www.arterramobility.com.