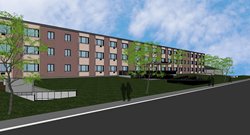 The Parqwood Apartments conversion from public housing to RAD and the renovation of the project signifies LMHA's dedication to further improve the lives of its residents.
Columbus, OH (PRWEB) November 19, 2014
RED Mortgage Capital and RED Capital Markets, the mortgage and FINRA registered investment banking arms, respectively, of RED Capital Group, announced today that it provided a $1.7 million FHA section 221(d)(4) mortgage and $5.5 million tax-exempt bond financing for the Parqwood Apartments in Toledo, OH, sponsored by Lucas Metropolitan Housing Authority (LMHA).
Parqwood Apartments is a proposed substantial rehabilitation of a public housing community located at 2125 Parkwood Avenue in Toledo. The project is a low-income, age restricted (age 55+) apartment community that consists of 134 units situated in a three-story elevator building (with basement) and an adjoining one-story community building.
The community, operated by LMHA, will be converted from public housing units into Section 8 rental subsidized units under the Rental Assistance Demonstration (RAD) program. RAD is a central part of HUD's rental housing preservation strategy, which works to preserve the nation's stock of deeply affordable rental housing, promote efficiency within and among HUD programs, and build strong, stable communities.
Linnie Willis, Executive Director, Lucas Metropolitan Housing Authority (LMHA), stated, "In December 2012, the LMHA received conditional approval to place the Parqwood Apartments in the Rental Assistance Demonstration (RAD) Program. Due to the continuing decrease in capital funds from the Department of Housing and Urban Development (HUD), we continually explore all opportunities and potential resources to preserve low-income housing in our community. We are excited about partnering with HUD, including our role as one of the pioneers in this initiative. The LMHA Board of Commissioners and staff sincerely appreciate all of our financial partners in this endeavor. This multi-faceted collaboration will ultimately result in a completely renovated facility with major upgrades, including the exterior that will serve the residents well into the future."
Joseph Hague, Vice President for RED, commented, "The Parqwood Apartments conversion from public housing to RAD and the renovation of the project signifies LMHA's dedication to further improve the lives of its residents. The rehabilitation will update the individual units and provide energy-efficient appliances. The project's redevelopment will also allow a tired project to better fit into Toledo's historical Old West End neighborhood by enhancing the exterior of the project. The renovations will allow the 50 year-old project to continue to serve the residents of Toledo into the distant future."
About RED CAPITAL GROUP, LLC
Recognized for its industry expertise, innovative and comprehensive structures, and consistently high rankings, RED CAPITAL GROUP, LLC has provided over $55.3 billion of integrated debt and equity capital since 1990 to the seniors housing and health care, multifamily, affordable, and student housing industries through three operating companies. RED Mortgage Capital, LLC is a leading Fannie Mae DUS® and MAP- and Lean-approved FHA lender with a mortgage servicing portfolio of almost $16.6 billion. RED Capital Markets, LLC (MEMBER FINRA/SIPC) is a leader in the distribution of Fannie Mae and Ginnie Mae Project MBS, and provides structuring, underwriting, placement, and advisory services for tax-exempt and taxable housing and health care bonds. RED Capital Partners, LLC provides proprietary debt and equity solutions, and asset management in a range of forms, including subordinated gap and bridge loans. RED CAPITAL GROUP, LLC is a subsidiary of ORIX USA Corporation.
About ORIX USA Corporation
ORIX USA Corporation is a diversified financial company with approximately $6 billion of assets in sectors spanning commercial finance, venture finance, commercial real estate and public finance, as well as $25 billion of assets managed for others. Operating subsidiaries include Houlihan Lokey, RED CAPITAL GROUP and Mariner Investment Group. Headquartered in Dallas, Texas, ORIX USA and its subsidiaries have more than 1,400 employees and offices in major cities including New York, Los Angeles, London and Tokyo.
ORIX USA is a wholly-owned subsidiary of ORIX Corporation, a Tokyo-based, publicly owned international financial services company with operations in 35 countries worldwide. ORIX Corporation is listed on the Tokyo (8591) and New York Stock Exchanges (IX). For more information on ORIX USA, visit http://www.orix.com.
DUS® is a registered trademark of Fannie Mae