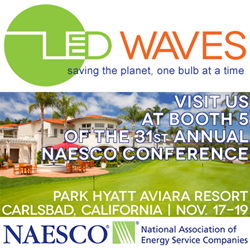 (PRWEB) November 18, 2014
Brooklyn based LED lighting supplier and manufacturer LED Waves is pleased to announce their recent membership and accreditation with the National Association of Energy Service Companies. The company is participating in the NAESCO Conference this week in Carlsbad, California.
NAESCO's mission is to encourage customers and public officials to prioritize efficiency as they make procurement and energy policy decisions. To this end, the association advocates with state, federal, and utility representatives for energy programs such as efficiency incentives, provides training and ESCO accreditation, and facilitates business partnerships for industrial retrofits and building projects in the MUSH (Municipal, University, Schools and Hospitals) sector.
NAESCO also provides their members with resources to help reach their energy saving goals. They have partnered with the Federal Energy Management Program and the Lawrence Berkeley National Laboratory in developing the eProject Builder, an online database that streamlines procurement and reporting processes for ESCO projects.
As a newly initiated Associate Energy Service Affiliate Member, LED Waves is proud to uphold the business integrity and best practices in energy saving projects that support NAESCO's mission. Joining this group as an accredited vendor will also provide LED Waves with great opportunities to further the development and adoption of energy saving technologies, as well as to partner their LED products and OEM services with the growing demand for lighting retrofits faced by ESCOs.
LED Waves is participating in the NAESCO Conference with three main objectives:
1. To formally introduce the company to the NAESCO member network.
2. To form partnerships with other vendors towards building a one-stop resource for energy saving projects.
3. To position the company's project management and LED lighting expertise within the ESCO toolbox to meet efficiency and delivery goals.
Fellow NAESCO members attending the conference are encouraged to visit LED Waves at booth 5.
LED Waves' project management approach and OEM operations have been continuously shaped in support of the ESCO market. However, their clients representing all other sides of the industry will still benefit from their NAESCO partnership as they continue working with key energy leaders, and apply this experience to improve and accelerate the adoption of LED technology.