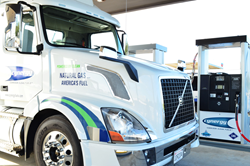 "It's a great thing here and it's a great thing for America." -Dothan Mayor Mike Schmitz
Dothan, AL (PRWEB) December 01, 2014
Local dignitaries and more than one hundred attendees attended the Ribbon Cutting and Grand Opening of Corridor Clean Fuels' new CNG fueling station, located at the Hobo Pantry Chevron at 735 Ross Clark Circle in Dothan, AL. At the ceremony, Mayor Mike Schmitz proclaimed, "It's hard to be the first, but I believe CNG is the wave of the future". Houston County Commission Chairman Mark Culver added: "The good thing is not only is CNG good for our state and our community, but it's good for our nation in that it uses a domestic product to make fuel and keeps us from being dependent on foreign oil." Mark Bentley, Executive Director of the Alabama Clean Cities Coalition stated: "Having a public-access fast-fill station in Dothan will not only serve drivers who are already using CNG, it will encourage both fleets and individuals to make the switch to this domestic, cleaner-burning alternative to imported oil and diesel fuel." The new station includes (2) 250 hp compressor packages and two internal card reading CNG dispensers, each with light-duty and heavy-duty nozzles.
A CNG Workshop was held following the grand opening to help promote education and adoption of using CNG as an alternative fuel to gasoline and diesel. The workshop featured presentations on a number of topics including an overview of CNG, engine availability for the transportation industry, and financially compelling examples of potential savings for fleet management.
The event garnered a significant amount of media coverage, including http://www.dothanfirst.com/story/d/story/largest-natural-gas-station-in-alabama-opens-in-do/37761/PZMgXzLf00qs-2Gngz3kGA and http://www.wsfa.com/story/27159474/alabamas-largest-public-access-compressed-natural-gas-station-opens-in-dothan
General information about CCF, including its interactive Savings Calculator can be found at http://www.cynergyfuels.com
Contact Corridor Clean Fuels at 256-894-0098
ABOUT CORRIDOR CLEAN FUELS
Corridor Clean Fuels, LLC is an Alabama-based company focused on developing, owning and operating CNG fueling stations to distribute its Cynergy brand of CNG fuel across the southeastern United States.