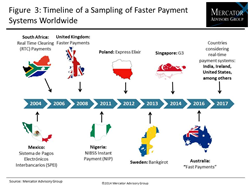 Real-time payments in the U.S. are becoming tangible.
Boston, MA (PRWEB) November 18, 2014
Real-time payments can be found in a dozen or so countries around the world but the need for faster payments is just beginning to be recognized in the United States. The U.S. is among a handful of countries now in process of planning of implementing national real-time payments, but confusion remains as to what is meant by "real-time payments" and when "real time" is important.
Mercator Advisory Group's latest research report, Faster Payments Coming Soon: The Path to Near Real-Time Payments in the U.S., explores the current state of real-time payments and the market need expressed by consumers, companies, and banking and payments professionals. Real-time payments are clearly needed in certain scenarios. Real-time funds availability is often needed for emergency insurance claims disbursements, government disbursements and collections, payday loan disbursements, and person-to-person (P2P) payments or funds transfers, among other situations. "Near real-time" payments are acceptable in situations such as corporate disbursements, e-commerce payments, and expedited bill payment. In practical terms, ACH batch mode processing will always be acceptable in some payment scenarios (such as payroll), while in others, funds must be available in real time and consumers are willing to pay extra for the service. Settlement of funds need not occur in real time, however. This research report covers real-time definitions and types, market needs, and the historical development of real-time payments outside the U.S.
"Real-time payments in the U.S. are becoming tangible. With the Federal Reserve ramping up its efforts, FIS PayNet going live in 2014, Dwolla and BBVA Compass partnering up, The Clearing House jumping into the act and claiming a role in real-time payments, and ACI UP Framework providing infrastructure to other real-time payments around the globe, real-time payments in the U.S. is now a stone's throw away. The key is for the industry to come to a consensus as to where ACH ends and "near real-time" or actual real-time payments begins. We found "real-time" being defined based on two different sets of criteria, with real-time authorization/clearing and then availability of funds being important to consumers and merchants. In reality, real-time movement of funds is not a critical component of the real-time ecosystem," comments Ron Mazursky, Director, Debit Advisory Service at Mercator Advisory Group, and author of the research report.
Highlights of this research report include:

Definition of real-time payments
The market need for real-time payments—what consumers say they prefer and banking and payments industry professionals expect
Summary of market implementation of real-time payments by country
Three developments of real-time payments in the U.S.—Federal Reserve plans, FIS Global PayNet, and the ACI Worldwide UP Framework
A discussion of future developments in real-time payment networks in the U.S.
This research report has 21 pages and 7 exhibits.
Organizations mentioned in this research report include: ACI Worldwide, BBVA Compass, clearXchange, Dwolla, Federal Reserve, FIS Global PayNet, and MCX.
Members of Mercator Advisory Group's Debit Advisory Service have access to these reports as well as the upcoming research for the year ahead, presentations, analyst access, and other membership benefits.
For more information and media inquiries, please call Mercator Advisory Group's main line: (781) 419-1700
For free industry news, opinions, research, company information and more visit us at http://www.PaymentsJournal.com.
About Mercator Advisory Group
Mercator Advisory Group is the leading independent research and advisory services firm exclusively focused on the payments and banking industries. We deliver pragmatic and timely research and advice designed to help our clients uncover the most lucrative opportunities to maximize revenue growth and contain costs. Our clients range from the world's largest payment issuers, acquirers, processors, merchants and associations to leading technology providers and investors. Mercator Advisory Group is also the publisher of the online payments and banking news and information portal PaymentsJournal.com.