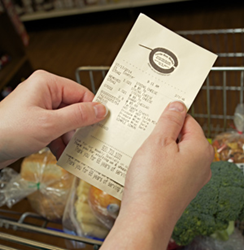 In response to demand for a more natural receipt paper, we now offer Alpha Free, which is manufactured using Vtiamin C.
STURGIS, MI. (PRWEB) November 20, 2014
Innovative receipt paper sounds like an oxymoron in today's digital age, but Telemark Diversified Graphics believes there's always room for product improvement. For the last 40 years, they have worked to provide customers with the most cutting edge thermal paper products available.
And now, in partnership with Appvion, an employee-owned paper company headquartered in Wisconsin, Telemark is set to supply a new type of thermal receipt paper that is made with vitamin C, instead of phenol chemicals like bisphenol A (BPA) and bisphenol S (BPS).
"This paper will fill a need for customers who are industry visionaries, who focus on bucking industry trends, rather than shaving costs," said Brandon Kent, Vice President of Sales and Marketing at Telemark.
Appvion's new Alpha Free receipt paper is the first to use vitamin C in place of traditional phenol-based thermal developers like BPA, BPS or controversial phenol substitutes. Vitamin C serves as an image developer in this new thermal chemistry.
"Appvion understands that some consumers care about what's in their receipt paper, not just what is printed on it. In response to demand for a more natural receipt paper, we now offer Alpha Free, which is manufactured using vitamin C and meets the needs for people who are concerned about phenols like BPA," said Dave Pauly, product manager for thermal receipt paper at Appvion.
Telemark will assist Appvion in their ongoing roll-out of Alpha Free to retailers. Retailers, and customers alike, will be able to identify this new brand of thermal paper by its signature yellow hue.
"Vitamin C is well-known, well-studied and used daily as a nutritional supplement by millions of Americans," Pauly said. "Our research identified strong consumer preference for vitamin C over other options we considered. Vitamin C also produces a natural yellow color on receipt paper, which makes it easy to identify. Given those benefits, we focused our development efforts on a vitamin C formulation that fulfills customers' preferences for a phenol-free product without compromising product reliability or performance."
Telemark is proud to help introduce Alpha Free paper to shoppers this holiday season. Whether stocking up on groceries for entertaining or tackling an extended gift list, consumers can easily spot Alpha Free by its color and know it's the receipt paper made with vitamin C.
About Telemark Diversified Graphics
Telemark Diversified Graphics services distributors with top quality, competitively priced thermal paper products, including, ATM Paper, Parking Ticket Paper, Mobile Printer Paper, POS Paper, and more. Headquartered in Sturgis, MI, they have over thirty employees committed to supplying customers with the best thermal paper products available. For more information, visit http://www.telemarkcorp.com.