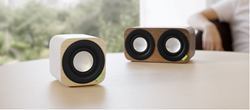 Q is a truly unique compact sound system, made even better with the full-range CD-quality capabilities of aptX®.
Saxonville, MA (PRWEB) November 19, 2014
Vers Inc., designer of compact, handcrafted, environmentally thoughtful wood sound systems, continues to push design and sound barriers with its launch of the next generation Q series.
The original Q sound systems were highly acclaimed for their use of wood in creating a refreshing and unique design, natural sound quality, and commitment to sustainability. The next generation of Q are powered by Bluetooth® v4.0, aptX® technology, and upgraded audio design for best-in-class mobile sound quality. The sleek compact design of the new Q series entails a unibody cabinet carved from a single solid block of wood, making every Q unique. Precision manufacturing techniques avoid seams or gluing, creating a structure that is structurally strong, durable, and aesthetically stunning.
Vers continues in its mission to create sustainable products and uses wood sourced from forests certified by the Forest Stewardship Council®. In addition, 100 trees are planted through the Arbor Day Foundation for every one tree used, and paper used in Vers packaging is made completely from post-consumer stock and is fully recyclable.
"Q is a truly unique compact sound system, made even better with the full-range CD-quality capabilities of aptX®," says David Laituri, founder of Vers. "The hand-crafted solid wood cabinet is simply amazing – each has its own unique 'fingerprint' and delivers a distinct warm, natural sound quality that only wood can provide."
The 1Q is a palm-sized 3" X 3" X 3" wood cube and the 2Q is 3" X 3" X 6". Both connect with almost any mobile device (smart phones, tablets, laptops) through Bluetooth® v4.0. 1Q is a 6.5W system while 2Q delivers 13W stereo. Both have a 30-foot (3 m) wireless range and approximately 9 hours of battery life, with battery level displayed on most mobile devices.
The 1Q and 2Q come in both Walnut and Ash. 1Q retails for $129.95 and the 2Q for $199.95.
The new Q Sound Systems can be purchased at http://www.versaudio.com and will be available at the Apple Online Store (http://store.apple.com) and select Apple Retail Stores in the US and Canada starting Nov 18.
The Vers hand-crafted wood iPhone®/iPad®/Android™ sound system and mobile accessory brand was founded in 2007 and is distributed in over 30 countries. Vers is committed to making beautiful, high quality environmentally thoughtful sound systems and accessories. For more information visit http://www.versaudio.com.
MEDIA CONTACTS
Maxine Olhava
maxine(at)chicblvd(dot)com
David Laituri
dave(at)versaudio(dot)com
IPhone and iPad are trademarks of Apple Inc. Android is a trademark of Google Inc. Bluetooth is a registered trademark of Bluetooth SIG, Inc. aptX is a trademark of CSR plc.