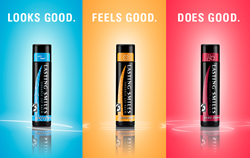 "We empower consumers to buy responsibly and contribute humanely by making better material goods that give back, are easy to access and enable all of us to be intimately connected to making the world a better place," says Mesnik-Greene
SEATTLE, Washington (PRWEB) November 18, 2014
Offered in four luscious flavors (Passionfruit Mango, Peppermint Creme, Peach Blossom, and Pure Pomegranate) plus Simply Moisture (unscented), these healthy lip balms are made from the finest quality organic ingredients and are the cosmetic industry's first lip balm with a built-in social purpose. A portion of every Lasting Smiles purchase supports cleft lip and palate surgeries for children in the countries where the organic, Fairtrade certified ingredients are sourced, bringing the brand's social purpose mission full circle.
"Use your lips. Smile for a Cause" is printed on every sleek black tube of Lasting Smiles, transforming one of the most ubiquitous daily lip care routines into an effortless act of kindness.
With the non-profit cause serving as the centerpiece of her for-profit business model, Mesnik-Greene is pioneering a pay-it-forward social purpose path for the 2015 projected $1.7 billion world lip care industry (source: New Report Global Industry (GIA) Analysts Inc.).
"Our lip care line introduces all consumers to philanthropy, regardless of income," says 21-year-old Mesnik-Greene, who began her lip care enterprise in 2013 as a college student at the University of Washington in her hometown of Seattle. "We empower consumers to buy responsibly and contribute humanely by making better material goods that give back, are easy to access and enable all of us to be intimately connected to making the world a better place."
Lasting Smiles will initially support cleft lip and palate surgeries for underprivileged children in Peru, Burkina Faso and India, where Smile Train, the world's largest international children's cleft charity and Lasting Smile's non-profit partner, estimates there are 38,000 cleft births annually. "I was shocked to learn how many children in these countries don't have access to the relatively inexpensive, yet life-changing surgery to repair a cleft lip or palate and felt compelled to do something about it," added Mesnik-Greene.
"We are extremely grateful that Lasting Smiles shares the vision of Smile Train by dedicating a portion of each sale to help advance social good," says Susannah Schaefer, CEO of Smile Train. "Their commitment will make a significant difference in not only the lives of children with clefts, but their families and communities as a whole. This valued partnership between Smile Train and Lasting Smiles will give children around the world their very first smiles."
Lasting Smiles' moisturizing and soothing organic formula is made from the finest natural ingredients, including Fairtrade certified cocoa butter, Shea butter and coconut oil. All are sustainably sourced from global small-scale farming communities in the countries slated to benefit from the cleft repair surgeries.
"With Lasting Smiles, Zoe is weaving social impact with generating revenue," says Hans P. Theyer, Executive Director, Fairtrade America. "Most companies 'do business' and give back through philanthropy or corporate social responsibility, and, as valuable as that is, there are very few who make giving back their core business. We are pleased that the FAIRTRADE Certification Mark will be on every package of Lasting Smiles lip balm, representing Zoe's commitment to sustainably-produced ingredients and trade justice for farmers and workers."
In addition to Nordstrom, Lasting Smiles is also available in Whole Foods, Lori's Gifts, drugstore.com and walgreens.com. A single lip balm retails for $4.99. For a list of retailers nationwide and to learn more about Lasting Smiles and its strategic cause partners, please visit http://www.LastingSmilesCare.com or on Facebook at Lasting Smiles, Twitter: https://twitter.com/lastingsmiles4u and Vimeo: https://vimeo.com/112126714
# # #
About Lasting Smiles
Lasting Smiles™ is the first product line of StartMark™ founded in 2013 by social entrepreneur Zoe Mesnik-Greene of Seattle, Washington. Driven by the mission to fund cleft lip and palate surgeries around the world, Mesnik-Greene connected her first product line directly to the need to bring smiles to children with this condition and created the mantra: Use Your Lips; Smile for a Cause. Fairtrade and organic certified, the lip balms are available in four "flavors" and one non-flavored version at national retailers throughout the country, please visit us at LastingSmilesCare.com.
About Smile Train
Smile Train is an international children's charity with a sustainable approach to a single, solvable problem: cleft lip and palate. Millions of children in developing countries with unrepaired clefts live in shame, but more importantly, have difficulty eating, breathing and speaking. Cleft repair surgery is simple, and the transformation is immediate. Smile Train's sustainable model provides training and funding to empower local doctors in 85+ developing countries to provide 100%-free cleft repair surgery in their own communities. To learn more about how Smile Train's sustainable approach results in donations having both an immediate and long-term impact, please visit smiletrain.org.
About Fairtrade International
The international Fairtrade system - made up of Fairtrade International and its member organizations - represents the world's largest and most recognized fair trade system. We connect disadvantaged producers and consumers, promote fairer trading conditions and empower producers to combat poverty, strengthen their position and take more control over their lives. When a product carries the FAIRTRADE Certification Mark it means the producers and traders adhere to rigorous social, economic and environmental Fairtrade Standards. Fairtrade America is the non-profit organization representing the international Fairtrade system in the United States. Fairtrade America licenses the FAIRTRADE Certification Mark and promotes Fairtrade in the United States. For more information, please visit us at fairtrade.net and fairtradeamerica.org.