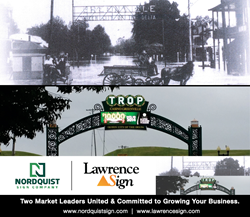 This distinctive arch marks the beginning of our customers' exciting experience as they arrive at the new Trop Casino Greenville.
Minneapolis, MN (PRWEB) November 18, 2014
The project started with Chuck Coleman, Vice President of Development at Trop Casino Greenville, who envisioned a new archway display reminiscent of the 1927 arch, which named the area of Greenville "Queen City of the Delta."
The archway is intended to be the signature architectural element in Trop Casino's major investment in expanding the region's premier gaming venue. Trop Casino hired Nordquist Sign to design, manufacture and install the arch, which also includes an LED dynamic video and graphic display.
Nordquist Sign and Trop Casino Greenville worked closely with the Levy Board, Army Corp of Engineers, and local engineers W.L. Burle Engineers PA, to meet the unique construction requirements of a project site so close to the Mississippi River.
Roscoe Greene, General Manager of the Trop Casino Greenville said, "This distinctive arch marks the beginning of our customers' exciting experience as they arrive at the new Trop Casino Greenville. The Nordquist Sign custom designed display combines the significance of the City's history with a modern day style."
"We are very pleased to complete another challenging Trop Casino project, and we are proud of the continued partnership between Trop Casino and Nordquist Sign," said Robb Walker, CEO of Nordquist Sign.
About Nordquist Sign & Lawrence Sign
Nordquist Sign has been fabricating and installing interior and exterior signage, architectural elements and way-finding signage for more than 100 years. Nordquist's customer base and scope of work includes custom signage and environmental graphics for hospitals, sports facilities, themed entertainment, corporate/financial and mass transit industries. Nordquist Sign also maintains a gaming division with offices in Las Vegas, NV and St. Paul, MN to serve casino gaming markets throughout the United States.
For more than eighty years, Lawrence Sign has been assisting prominent companies to grow with new locations coast to coast with their multi-site sign program. Lawrence Sign proactively manages every aspect of their customers' sign programs including design, regulatory compliance, fabrication and installation and ongoing maintenance.
Lawrence Sign utilizes advanced technologies and expansive facilities to provide direct in-house control of the entire sign fabrication process. The Company excels at serving companies with a multi-site national and international presence.
In early 2012, Lawrence Sign combined with Nordquist Sign to unite the unique resources and capabilities of the two companies. Together, Lawrence Sign and Nordquist Sign offer their clients over 175 years of experience in sign manufacturing and installation for all facets of the signage industry.