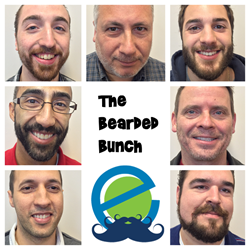 Here's the deal: I am trying to grow a beard because it is for a good cause
Andover, MA (PRWEB) November 19, 2014
Effective Student Marketing, a national digital marketing firm specializing in higher education, is joining the No Shave November movement sponsored by the American Cancer Society. The company is contributing funds to the fight against cancer and the men on the Effective Student Marketing team are growing out their beards to bring attention to a disease which treatment often causes hair loss.
No Shave November began as a Facebook page in 2009 with fewer than 50 fans. Today, the non-profit has raised hundreds of thousands of dollars and has teamed up with the American Cancer Society to educate people about the disease and raise funds for research and treatment.
Effective Student Marketing president Andy Kelley said he was quickly convinced to support the fight against cancer, although less quick to join his team's method.
"I don't know of anyone who hasn't been affected by cancer," said Kelley. "My sister and my wife's sister are both battling cancer right now. It's a horrible illness and I'm happy to contribute."
On the other hand, Kelley didn't immediately jump on board to growing out his own beard. And then he did.
"As an entrepreneur, there are no challenges that I am afraid to tackle," said Andy. "However, I have to admit that growing a beard is one limitation I have. There are at least two males in my office who can shave in the morning and have a full beard by lunch. I swear that one of them grew half a beard during a one-on-one meeting."
"But here's, the deal: I am trying to grow a beard because it is for a good cause. I believe in creating awareness about cancer. And at the end of the day, the worse my beard looks, the sharper I'll have to dress."
Those interested can check out Andy's (and his beard's) progress by following Andy on Twitter @AndyWKelley or by visiting the No Shave November website to learn more about participating and contributing.
About Effective Student Marketing:
Effective Student Marketing specializes in integrated online marketing strategies that bring together social media marketing, pay-per-click advertising, and content creation to help institutions of higher education engage with students, graduates and future students to achieve their student enrollment and retention goals. Andy Kelley founded the company in 2004 and he and his team have a "we'll figure it out" philosophy that combines creativity and technology to stay on top of the latest tactics and trends in the online marketing industry for higher education. You can find more information about their services at effectivestudentmarketing.com.