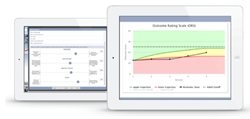 Numerous clinical trials document that this evidence-based process improves quality, retention, and outcome of behavioral health services.
Waterloo, ON (PRWEB) November 18, 2014
Athena Software (http://athenasoftware.net) is proud to announce the addition of world-renowned performance metrics for health and social service agencies around the globe using the Waterloo company's Penelope case management software application.
The latest version of Penelope will now include an integration to openFIT (Open, Feedback-Informed Treatment), the web service that implements the Partners for Change Outcomes Management System (PCOMS), co-developed by Chicago-based clinical trainer, public speaker and author Scott Miller, Ph.D.
PCOMS includes two evidence-based scales, the Outcome Rating Scale (ORS) and Session Rating Scale (SRS), for monitoring the quality and outcomes of service.
Already in use by thousands of behavioral health professionals around the world, primarily in paper and pencil format, PCOMS has been certified by the National Registry for Evidence-Based Programs and Practices developed by the Substance Abuse and Mental Health Services Administration (SAMHSA) in the United States. Clinical research so far has shown that use of PCOMS measures can double the effectiveness of treatment, while simultaneously reducing dropout and no-show rates, as well as cutting service delivery costs.
The web service integration to openFIT involves sending anonymous ORS results collected in Penelope for analysis by the openFIT cloud-based algorithms. The results are then sent back to Penelope where the client's progress and trajectories for change are plotted. The algorithms are based on a sample of over 95,000 unique episodes of care, and the trajectories provide benchmarks for comparing individual consumer progress to both successful and unsuccessful treatment episodes.
The OpenFIT web service is provided by ACE Health, a Dublin-based company co-founded by Dr. Miller and ACE Health CEO Enda Madden.
"Providers who are using OpenFIT can easily and routinely solicit feedback from patients regarding their engagement with clinical services and their progress in treatment," said Madden. "This partnership with Athena, a global provider of case management software for health and social services, extends our ability to enable providers to implement Feedback Informed Treatment in their organizations."
Thanks to the partnership with Dr. Miller, Athena is happy to be one of the first software companies to present the ORS and SRS measures as pre-built modules for the hundreds of health and social services agencies around the world using their Penelope case management software application. This will allow agencies to easily administer the measures, monitor and respond to client progress, and report on individual and aggregate client satisfaction and outcomes, all from within the Penelope application.
For Dr. Miller, who provided input to Athena on the creation of the ORS / SRS module in Penelope throughout its development, this capability is another step forward for evidence-based clinical treatment.
"Numerous clinical trials document that this evidence-based process improves quality, retention, and outcome of behavioral health services," said Dr. Miller. "By working with Athena, providers have the ability to implement Feedback Informed Treatment in their organizations."
So how does it work? In Penelope, patients can easily mark the relevant points on each scale by using either a mouse to drag a slider along the scale, or a stylus or their finger if accessing the system with their provider on a tablet or smartphone. As well, new built-in reports in Penelope allow providers and organizations easy access to trends and results from the ORS and SRS scales, including easy-to-read graphs showing each client's progress. The reports also allow managers to view at-a-glance the progress (whether positive or negative) of clients across the organization and to assist providers in making decisions about service delivery that ensure the best outcomes for their clients.
Penelope will also include the Child Outcome Rating Scale (CORS), Child Session Rating Scale (CSRS), Group Session Rating Scale (GSRS) and the Young Child Outcome Rating Scale (YCORS). "The rollout of the ORS and SRS measures in Penelope is just the latest example of Athena Software's commitment to supporting our client's efforts to effect positive change in the lives of the individuals they serve," said Athena partner Diane Stanley-Horn. "We are thrilled to be working with Dr. Miller and his team to deliver PCOMS in Penelope."
The ORS / SRS module is available as an add-on module in Penelope for Athena Software clients as of November 2014.
ABOUT ATHENA SOFTWARE
Athena Software (http://athenasoftware.net) is a global case management solution provider based in Waterloo, Ont., Canada. Over the past 13 years, Athena Software has grown to partner with hundreds of organizations across the globe, with over 15,000 end users of its Penelope case management solution.
ABOUT SCOTT MILLER, Ph.D
Dr. Miller is the co-developer of PCOMS and founder of the International Center for Clinical Excellence (ICCE), an organization of clinicians, researchers and educators from around the world dedicated to promoting excellence in behavioral health services. Dr. Miller also conducts popular workshops and training sessions all over the world, helping hundreds of agencies and organizations achieve better clinical results. For more information on Dr. Miller's work, visit http://whatispcoms.com and http://www.nrepp.samhsa.gov/ViewIntervention.aspx?id=249.