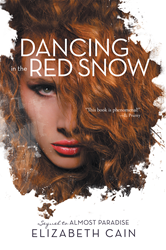 It's a nightmare to lose a child, but for Sunny, it's a trauma she barely understands.
LINCOLN, Mont. (PRWEB) November 18, 2014
Elizabeth Cain is a bit of a renaissance woman. Running sled dogs, riding dressage horses, running in state politics, teaching poetry, as well as studying Spanish and Swahili paints a picture of a woman who is a student of the world. Speaking of painting―she does that too.
Her latest endeavor is a novel titled "Dancing in the Red Snow." In it, the third generation of a Nevada ranching family faces grave losses with barely a prayer to hold onto. Although life has a steady rhythm on the Rancho del Cielo Azul, a freak lightning storm rolls out from behind the looming mountains and sweeps over Hank Rose's parents who are stranded on their horses in the desert. The horror of their deaths seems to be softened by the birth of the Roses' daughter, Sunny, but in a few short years, the girl is abducted from the county fair and hopelessness sets in again.
The story's narrative parallels the characters' struggles—the Roses' efforts to find meaning in their existence without their little girl and Sunny's attempts to free herself from the illusive and abusive kidnapper.
"It's a nightmare to lose a child," Cain said. "But for Sunny, it's a trauma she barely understands."
When Sunny is recovered after eight harrowing years, she comes home changed and confused. Her father is forced to wrestle with a past he would rather forget and has to reveal his dead mother's deepest secret and one of his own to help Sunny find her way.
"Dancing in the Red Snow" is the compelling tale of a girl's dark journey with a vengeful woman she has to call "Mommy" and the courage she shows on a surprising path to healing.
For more information or to contact the author, visit http://www.elizabethcainauthor.com
You may also contact her by telephone at: (406) 362-4743
"Dancing in the Red Snow"
By Elizabeth Cain
ISBN: 978-1-4917-3970-9
Available in softcover, hardcover, e-book
Available on Amazon, Barnes & Noble and iUniverse
About the author
Elizabeth Cain was a secondary school teacher for 31 years in California. She has won numerous awards for her poetry, photography, and painting. Cain now lives in Montana with her husband, Jerry, and their menagerie of sled dogs, cats, and horses. This is her fourth novel and the sequel to "Almost Paradise."
# # #
**FOR IMMEDIATE RELEASE**
For review copies or interview requests, contact:
Matt VanScoik
317.602.7137 | mvanscoik(at)bohlsengroup(dot)com