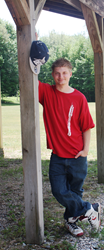 Hersey, MI (PRWEB) November 20, 2014
It's no coincidence that Adoption Month falls in November, the month of giving thanks. So many children across Michigan are able to say a prayer of thanks that they finally have a forever family to call their own. Agencies are thankful that to have foster and adoptive families contacting them throughout the year to inquire about making a difference in the lives of young people. Adoptive parents are thankful that they are able to give of themselves to make the life of a child a happy one.
Eagle Village would like to take this opportunity to thank all of the families they have worked with this year, both through foster care and adoption finalization. Their compassion and desire to help others has made more than a dozen lives better this year with several more adoptions due to finalize shortly after the first of the year.
Despite all the wonderful matches made, there are still so many teenagers out there waiting for a forever family to find them before they age out of the system. What teenager doesn't dream of having someone attend their plays at school, celebrate graduation with and to someday provide their children with someone to call grandma and grandpa.
Briefly featured below are two young men searching for families to call their own. Their complete information is on the MARE.org website link provided.
David describes himself as "athletic and fun." He enjoys BMX biking and a variety of sports including, basketball and soccer. David is interested in photography and enjoys taking pictures. His favorite food is steak and he also reported that he likes seafood and salad. David's favorite holiday is Halloween and he enjoys decorating for it and going out to haunted houses.
http://www.mare.org/ForFamilies/ViewWaitingChildren/tabid/93/view/Detail/Default.aspx?id=16821
Preston loves being outdoors and going camping and fishing and riding bikes. He enjoys being around friends. He also enjoys playing many different kinds of sports, especially basketball, and looks forward to having an opportunity to participate on a team in the near future.
http://www.mare.org/ForFamilies/ViewWaitingChildren/tabid/93/view/Detail/Default.aspx?id=6385
If you have wondered about the adoption process or have questions about how you can change the life of a child, call Eagle Village today at 231-832-7270.
Eagle Village is a non-profit family treatment center providing Intervention Services and Camps, Residential Treatment, Foster Care and Adoption services for all counties in Michigan. If you know of a family in crisis that may benefit from these programs contact Eagle Village at 231-832-2234 http://www.eaglevillage.org