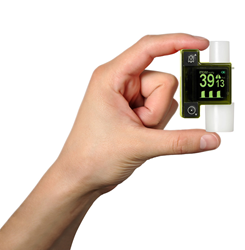 Capnography isn't just an option for specialty practices anymore. The EMMA II Capnograph from DRE makes CO2 monitoring affordable for everyone. - Nathan Claypool, Director of DRE Veterinary Health & Animal Sciences
(PRWEB) November 19, 2014
DRE Veterinary — a new and professionally refurbished equipment supplier — now offers the EMMA II Capnograph, a new capnography option that makes end tidal carbon dioxide monitoring more affordable for veterinary clinics everywhere.
The EMMA II Capnograph is a small, portable capnograph that delivers immediate waveform readings. The EMMA's continuous capnogram function helps veterinary caregivers to confirm correct endotracheal tube placement and assess the effectiveness of CPR and guide ventilation.
It is easily programmable and flexible for a wide range of care settings, including pre-hospital, emergency medicine, operating rooms, intensive care units and even long-term acute care.
The high price for most veterinary CO2 monitoring systems had made purchasing them impractical for most practices, but the low price point of the EMMA II means this is no longer the case, said Nathan Claypool, Director of DRE Veterinary Health and Animal Sciences.
"Capnography isn't just an option for specialty practices anymore," Claypool said. "The EMMA II Capnograph from DRE makes CO2 monitoring affordable for everyone."
The use of a capnometer is widely recommended by many animal health organizations, including the American Animal Hospital Association and the American College of Veterinary and Anesthesia and Analgesia.
Capnography is one of the most effective ways to ensure patient safety during anesthesia and intensive care. End tidal carbon dioxide readings reflect anesthetic machine function, blood flow and pulmonary ventilation.
Abnormal EtCO2 measurements are often the first warning signs that something is amiss. Capnograph readings can notify caregivers of machine malfunction or patient distress before pulse oximeters and other monitoring devices, allowing them to quickly change the course of care.
Low CO2 levels signal the patient may be suffering from hyperventilation, hypoxemia, hypotension, or hypothermia. Hypoventilation, central nervous system depression and respiratory failure are all associated with high CO2 levels.
The EMMA II Capnograph provides clear, continuous veterinary capnography monitoring with up to 10 hours of battery life. It has both visual and audible alarms for No Adapter, Clogged Adapter, No Breath (Apnea), and Low Breath. Alarms for low and high CO2 levels are customizable. No routine calibration is required.
For more information on the EMMA II Capnograph and other products and services from DRE Veterinary, call 1-800-979-6795.
About DRE Veterinary
DRE Veterinary provides a combination of new and professionally refurbished used medical equipment to veterinarians, veterinary surgery centers, research facilities, universities and technical schools. For more than 25 years, DRE Veterinary has worked with many of North America's top veterinary facilities and organizations, providing products and services that save time and money, and allow veterinary surgeons to do the things they do best. DRE Veterinary is located in Louisville, Ky.