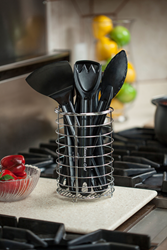 I admit I was skeptical. I mean, how different can one spatula be? Turns out, A LOT! I hadn't realized exactly how (to use Mr. Regini's words) flimsy my present utensils were! What a difference high quality and properly design can make! Stacey Alvarez
Houston, TX (PRWEB) November 26, 2014
What Foodie needs Santa when Saucepan Chef creator, Ellis Regini, already has the must-have gift of the year? This Texas baby-boomer has met the cry of cooks everywhere—for durable, high-quality cooking utensils uniquely designed for the way we cook.
WHAT IT IS:
Here is the Christmas present cooks have been waiting for. Why should consumers keep buying new cooking utensils because they continue to break, become discolored, melt, or are wooden germ collectors? Santa's elves have puzzled for years over how to create utensils that overcome these problems, but Saucepan Chef beat them to it.
WHY COOKS LOVE IT:
Saucepan Chef's superior quality kitchen utensils have an extremely high melting point and each one is sturdy enough to pick up a turkey without snapping. They are designed for saucepan cooking—from the angle of the spatula to the one-of-a-kind Spork and Knife set, that allows cooks to slice and dice food in the pan while cooking. These kitchen utensils will not damage anyone's cookware and are rugged enough to use outdoors on the grill.
Spoon:
The triangular design is angled for scraping the sides of pots, pans, and bowls with minimum swipes. Hold it vertically to use its blunt edge to break up cooking hamburger or to cut butter into pieces for pastries. Additionally, its flat edge allows for a thorough scraping of the bottom of the pan, preventing scalding. Need to blend separate ingredients for cookie dough? Turn this spoon backwards to plow through and blend the various ingredients. When preliminary mixing is done, turn the spoon back around for final mixing, then use its Herculean strength to lift up the thickest of batters without snapping.
Slotted Spoon:
Saucepan Chef has widened and expanded the size of the slots, for optimal draining. This brawny, slotted spoon can lift the ox right out of soup, leaving only the ox-tail. Let's see Santa do that!
Spatula:
Designed for confined spaces, this spatula's unique angle only needs 30 degrees to flip where the ordinary spatula needs as much as 180 degrees. It can reach deep within a pot, keeping fingers and hands up high, away from grease splatters. There's no need to keep a separate spatula for the grill. This one is tough enough for indoor and outdoor use.
Ladle:
The feature alone will have cooks swooning and foodies celebrating! It has cornered angles, directing the flow of your food, so one can serve up perfect sized portions of soup without spilling. Where has this feature been all of our lives!
Spork-and-Knife:
What cook hasn't wasted time taking items out of the pan in order to cut their food into pieces. Saucepan Chef has issued the cry, "No more!" He's designed a one-of-kind set that allows foodies to cut that rogue piece of diced onion back to size in the pot without ruining their non-stick pans. The spork holds the food in place can be used in unison with the other utensils for lifting and transporting food to their platters.
THE GOOD NEWS!
The Saucepan Chef is no Grinch! He wants everyone to experience this modern day cooking marvel and is offering the lowest price of the year following Thanksgiving.
Type "blackfriday" into the coupon code box on Friday 11/28/2014 and "cybermonday" on Monday 12/1/2014 to buy the set at the lowest price of the year of $34.95 (retails at $49.00.) Visit Saucepan Chef at: https://www.saucepanchef.com
Ships nationwide!
Samples are available for Holiday Gift Guide consideration.
Ellis Regini is a well-established financial investor and an age 68 plus entrepreneur. He is available for interviews. He takes great pride inspiring others to achieve their dreams no matter what their age.
To book Ellis Regini, in-studio, to cook up one of his famous recipes, please contact Jessica Dotta, with River Birch Industries, at 615-499-2071 or jessica(at)riverbirchindustries(dot)com.