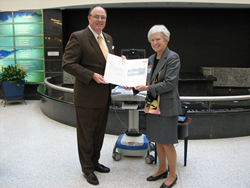 This partnership with Abington Health will help in the translation and communication with patients that will help them monitor and manage their health...
Willow Grove, PA (PRWEB) November 19, 2014
Abington Health is pleased to announce a $10,000 grant from the Verizon Foundation to help improve communication with a patient population needing translation services at the Abington Health Center-Schilling Campus in Willow Grove, PA.
As the number of patients with limited English proficiency grows, there is an increased need for timely translation services. This grant will help provide Video Remote Interpreter (VRI) services for patients needing sign language and other interpretation to six sites on the Schilling Campus, including the Mary T. Sachs Breast Center, the Diabetes Center, outpatient radiology and laboratory, and two hospital-owned physician practices.
The VRI technology – also known as ALVIN-short for: All Language Video Interpreter Network – provides patients with instant access to trained healthcare interpreters. The system is available 24 hours a day, seven days a week, and offers more than 100 languages, including American Sign Language.
Without this technology, requests for translation services can take hours if an interpreter is not available on site in the facility. With VRI, the entire process can take mere minutes. The VRI system utilizes wireless technology and videophones, mounted on a mobile cart. When an interpreter is required, the cart is brought into the designated area and, with a few clicks of a remote control, is connected with a translator, face-to-face, through crystal clear video/audio conferencing.
"We are grateful to the Verizon Foundation for helping us provide access to care for our patients needing translation services," says Meg McGoldrick, chief operating officer, Abington Health. "This technology will allow patients with translation needs to communicate with their healthcare providers in minutes."
"Verizon is committed to using creative ways to utilize technology to make a positive impact on our community," said Daniel J. Reavy, director of External Affairs, Verizon Pennsylvania. "This partnership with Abington Health will help in the translation and communication with patients that will help them monitor and manage their health, as well as to stay focused on their goals."
Abington Health is the umbrella organization that encompasses its flagship hospital, Abington Memorial Hospital, and Lansdale Hospital. Abington Health also includes five convenient outpatient facilities, Abington Health Centers in Willow Grove, Warminster, Blue Bell, Lower Gwynedd, and Montgomeryville, and Urgent Care Centers in Flourtown and Feasterville. Together, these facilities serve more than 39,000 inpatients, 134,000 emergency patients and over 653,000 outpatient visits annually.
More than 1,400 physicians are on staff at both Abington Memorial Hospital and Lansdale Hospital. Additionally, Abington Health Physicians is an employed network of primary care physicians and specialists. Abington Health has more than 6,000 employees, making it one of the largest employers in Montgomery County.