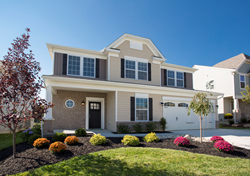 Maronda Homes is truly honored to receive recognition by the attendees of CiTiRAMA 2014. Winning this award is a reflection of our commitment to quality craftsmanship and innovative floor plan designs. - Greg Cox, Vice President
Greater Cincinnati Area, OH (PRWEB) November 19, 2014
CiTiRAMA officials formally announced that Maronda Homes has swept the competition at this year's 12th Annual CiTiRAMA Showcase Home Event. Hailed as the "Partnership between municipalities and the Home Builders Association," CiTiRAMA presented Maronda's Chatham design People's Choice Honors for 'Best Overall Home,' 'Best Kid's Home,' 'Best Landscaping by Agriscapes' and 'Best Decorating by Sacksteder Interiors' in this year's showcase.
Voted on by CiTiRAMA 2014 attendees, Maronda competed against new homes built by Drees Homes, Potterhill Homes and Meierjohan Building Group.
Maronda Homes' Chatham floor plan starts at $279,990 in Witherby Meadows and qualifies for a 12-year property tax abatement with an estimated $60,859 in savings.
Maronda is currently building single-family homes throughout the Witherby Meadows community as part of the College Hill Business District. College Hill, Ohio settled in 1813, is one of the most vibrant of Cincinnati's neighborhoods. This prime location features great restaurants, shopping and is located minutes from city life with all the benefits of a suburban lifestyle. For further information about Maronda Homes at Witherby Meadows, please call (866) 617-3809.
With four decades of skill perfecting home building experience, Maronda Homes has proven its ability to make the process of investing in a new home both fun and easy. They have a solid reputation built on high standards for craftsmanship, professionalism, and attention to detail. As a family-owned and operated business, their philosophy encompasses much more than just the construction of homes and feel privileged to have a hand in the vibrant communities where families work, play, and grow together.
About Maronda Homes
Established in 1972, Maronda Homes builds quality new homes in Ohio, Northern Kentucky, Pennsylvania, Southern Georgia, and Florida at an affordable price. For more information about Maronda Homes, visit http://www.marondahomes.com.
The information in this press release is subject to change and the pricing and other features of any Maronda-built home will be established at the time of sale.