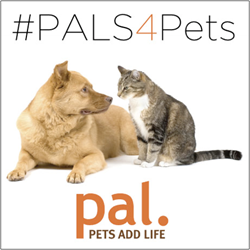 Greenwich, CT (PRWEB) November 18, 2014
Animal lovers nationwide will be celebrating pets on PAL's "National Get A Pal For Your Pet Day," Wednesday, November 19 by sharing pet photos and stories through multiple social networks. PAL is encouraging pet owners to change their Facebook and Twitter profile pictures, share pictures of their own pets, post to Instagram and Pinterest, and share Vine videos of their pets together.
Individuals can join this celebration of pets by changing their social media profile photos to custom Get a Pal For Your Pet Day images all day, as well as using #Pals4Pets on all social media channels. Most importantly, people can show their support by encouraging family and friends to consider adding another pet to the family.
Social media images can be found on PAL's Facebook and Twitter pages or on the PAL website here: http://petsaddlife.org/pet-pal.
"As much as they love and appreciate us, pets also benefit from animal companionship, and what better way to spread that message than through National Get a Pal For Your Pet Day and social media," said PAL's spokesperson, Award Winning Animal Advocate and NBC Correspondent, Jill Rappaport. "Having at least two compatible pets boosts their social interaction, exercise level, health and overall well-being. If you have a dog and a cat that are inseparable, two guinea pigs, or a tank full of fish friends, we hope you share your pictures of them on your pages, and help us celebrate the benefits of giving pets their own pals," said Rappaport. "Each year we look forward to this special day to encourage current owners to consider welcoming additional pets into the home. And, as I always say 'when you rescue, you're the one who gets rescued!'"
Visit the PAL YouTube channel to view and share a variety of entertaining videos featuring pets in need of a pal to talk to.
For more information on the PAL campaign, visit PetsAddLife.org or contact Brooke Gersich at 775-322-4022 or Brooke(at)theimpetusagency(dot)com.
###
Pets Add Life is a non-profit campaign established by the American Pet Products Association. The mission of PAL is to increase awareness of the bonds and other rewards associated with pets of all types. Through primarily social media, PAL encourages pet adoption, responsible pet ownership and multiple pet adoptions. Ultimately, the purpose of PAL is to spread the joys that come with pet ownership. Visit http://www.petsaddlife.org for more information and to search for adoptable pets in your area.