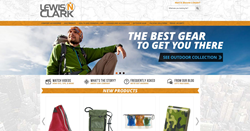 "We wanted a website that would connect with consumers on a personal level," said Jen Panattoni, Director of Marketing.
Elk Grove Village, IL (PRWEB) January 20, 2015
LCI Brands™ is excited to announce the launch of their new Lewis N. Clark® website, which focuses on creating a personalized experience for consumers. Lewis N. Clark was recently merged with in-house brands Lewis N. Clark Uncharted, Mood, and Li'l Lewis to better serve the growing outdoor and travel markets all under one name.
The site features intuitive navigation, embedded multimedia, and an effortless transaction process. It is home to the entire Lewis N. Clark line of travel and outdoor gear and accessories, and includes tips, blog posts, and more.
"Lewis N. Clark has always been about fulfilling the needs of travelers and outdoor enthusiasts," said Jen Panattoni, Director of Marketing. Since its creation in 1990, the brand "has seen many changes, and this one will allow us to take it to the next level."
The Lewis N. Clark website is located at http://www.lewisnclark.com and can be accessed immediately.
About LCI Brands
LCI Brands, formerly known as L.C. Industries, Inc., began with the manufacturing of luggage caddies in 1971. Since then, it has expanded to offer over 500 products in categories such as security, comfort, convenience, and health. LCI Brands owns several internal brands, including Lewis N. Clark and Belle Hop®. For more information, visit http://www.lcibrands.com.