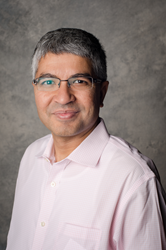 "Ajay is an industry thought leader who shares the same level of passion for technology that has made IDS so successful over the past decade." - Justin Mescher, Chief Technology Officer
Chicago, IL (PRWEB) November 20, 2014
IDS, a leading Data Center Technology Integrator and Cloud Services Provider, today announced it has hired Ajay Patel as Director of Pre-Sales Engineering. Patel has an impressive background in engineering and IT management, with over 20 years of industry experience.
Justin Mescher, Chief Technology Officer at IDS, explains that bringing on Patel is a crucial pivot point for the passionate company. He says, "IDS has already grown exponentially due to our unique methodology and expert engineering talent. There is no question that the combination of Ajay's extensive background and thought leadership will continue to propel IDS further than we ever knew it could go."
Mescher goes on to say that IDS is already seeing unfounded success within their Data Center and Cloud offerings, and the addition of Patel will allow them to dedicate even more focus on expanding and developing customer-facing resources. Mescher predicts that hiring Patel will facilitate the continued growth IDS is experiencing and help the company reach a record-breaking growth rate in 2015.
"We have an incredibly powerful foundation. Ajay is an industry thought leader who shares the same level of passion for technology that has made IDS so successful over the past decade." says Mescher.
Patel says he finds having the correct mindset is crucial when working in the technology industry. He explains, "In my experience I've found it's possible to orchestrate transformative business strategy using thoughtful data-driven decisions. We can revolutionize organizational growth, performance and profitability simply by leveraging technology in the right way. We can achieve strategic financial and business goals while addressing tactical needs with the right strategy designed for growth."
Patel stated that he's thrilled to join IDS, a company he says embodies a level of expertise and care for their customers he has yet to see at other organizations.
About IDS
IDS is a Data Center Technology Integrator and Cloud Services Provider based in Chicago, IL. IDS works with a select list of best-of-breed manufacturers to deliver custom IT solutions to businesses worldwide. Primary areas of focus are Storage, Backup, Disaster Recovery, Data Analytics, Virtualization, Mobility, Networking, Compute, Security, Managed Services, and Cloud. Through a unique Engineering methodology and high level of accountability, IDS has established itself as a premier Solutions Provider. For more information about IDS, visit http://www.integrateddatastorage.com or call us at 312.334.6400.]