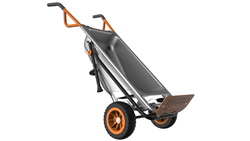 The WORX AeroCart, WORX 4V XTD Extended Reach Driver and WORX TRIVAC 3-in-1 Compact Blower/Mulcher/Vac top the list of innovative holiday tool gifts.
Charlotte, N.C. (PRWEB) November 19, 2014
The multi-purpose WORX AeroCart optimizes leverage and converts into eight different types of cart. As a wheelbarrow, AeroCart concentrates the center of gravity over two oversized, flat-free tires to make lifting 200 lbs. feel like 17 lbs.
AeroCart easily turns into a hand truck by pulling a release knob, folding up the legs until they lock, and folding down the front dolly plate. Drop-down extension arms convert AeroCart into an extended dolly for hauling firewood. Carry large potted plants and shrubs by using an adjustable mesh with cinch strap accessory. Also, a webbed sling accessory can be used to transport boulders and odd-shaped items.
AeroCart features a cylinder holder for moving propane tanks or water-cooler jugs and a refuse bag holder for grass clippings, leaves and yard debris. By attaching a 1-7/8 or 2 inch receiving ball (not included), AeroCart can be used to move trailers up to 1,000 lbs.
The WORX AeroCart (WG050, $159.99) is available at worx.com, Home Depot and Menards retail stores, and other online retailers including Amazon and Sears. AeroCart also is available through regional hardware and home centers. Optional accessories include a Wagon Conversion Kit (WA0028, $79.99), Snow Plow Attachment (WA0230, $49.99) and Watering Bag (WA0229, $19.99).
The new WORX 4V XTD Extended Reach Driver is the only powered screwdriver with an extendable drive shaft to connect with hard-to-reach fasteners. It's ideal for installing mini-blind brackets, curtain hardware, electrical boxes, cabinet hardware, and more.
This lightweight 1.1 lb. compact driver features a top-mounted slide switch that extends the tool's drive shaft in nine positions up to 2 inches. The long drive shaft improves control and visibility and helps align the bit with the screw. The chuck is offset to provide better access in tight quarters. An auto spindle-lock enables the tool to be used as a manual screwdriver.
The XTD Driver is powered by a 4-volt lithium-ion, built-in 1.5 Ah battery. The driver is constructed of nylon composite with a rubber handle grip. It has a two-finger trigger, an LED light to illuminate the work area, a forward/reverse button to change directions and a ¼-in. chuck.
The XTD kit includes the Driver, six screwdriving bits: Phillips #0, 1, 2; Slotted #6, Square recess #2 and T15 and T20 Torx bits, plus a plug-in charger. The XTD driver has a 3-year warranty.
The WORX 4V XTD Extended Reach Driver (WX252L, $34.99) is available at worx.com and other websites, including Menards, as well as regional hardware and home centers nationwide.
The third-generation WORX TRIVAC 3-in-1 Compact Blower/Mulcher/Vac with 2-stage mulching system features an electronic, six-speed control that provides air flow selections from 75 to 210 mph. Its two-stage mulching system provides an 18 to 1 ratio that reduces leaves, twigs and debris for easy, compact disposal.
Besides herding large volumes of leaves at high speed, TRIVAC has a range of gentler air speeds for clearing flower beds, blowing the tops of mulch or gravel, and cleaning garages, decks and patios.
No tools or kits are needed to convert the TRIVAC from blower to mulcher/vac. With the turn of a lever, it vacuums leaves at a rate of 350 cubic feet per minute. The vac is equipped with a one bushel capacity collection bag with adjustable shoulder strap.
TRIVAC weighs only 9.7 lbs. and features a patented, angled nose-tube with a curved tip to vacuum in hard-to-reach areas. The TRIVAC is backed by the WORX 3-year warranty.
The WORX TRIVAC 3-in-1 Compact Blower/Mulcher/Vac (WG509, $119) is available at worx.com; through online retailers, such as Amazon; and local professional power equipment dealers. The WORX TRIVAC All-in-One Compact Blower/Mulcher/Vac (WG505, $89.99) single-stage model with metal impeller also is available at Walmart and Lowe's.
Beginning Black Friday, November 28 through Cyber Monday, December 1, 2014, shoppers can save 20% on WORX products exclusively at worx.com. To receive the 20% discount, enter the discount code: TURKEY. As a bonus, there will be a Free Shipping Day for everything at worx.com on December 18, 2014.
Like and follow WORX at Facebook: https://www.facebook.com/worxus and Twitter: https://twitter.com/WORXTools.