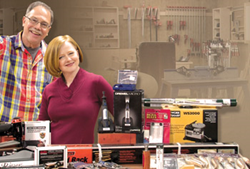 I like to start with 'Woodcraft Magazine.' It's the gift that keeps on giving.
PARKERSBURG, W. VA. (PRWEB) November 18, 2014
Scott and Suzy Phillips, co-hosts of "The American Woodshop" on PBS, spent some time at Woodcraft looking for Christmas gift ideas for woodworkers and do-it-yourselfers. A partial list of their choices is included here. To view all the selections, watch the online video at http://youtu.be/xfYgC17gOKg.
"I like to start with 'Woodcraft Magazine,'" Scott said. "It's the gift that keeps on giving. It's loaded with project ideas, product reviews, finishing and other techniques and good wood sources." Six issues a year arrive every other month from December to November.
A Woodcraft Gift Card is an ideal gift because the recipient may select from a total of 20,000 products available in Woodcraft retail stores, the Woodcraft catalog and online at woodcraft.com.
$1-$25
WoodRiver Pump-N-Grind Pepper Mill Turning Kit – The Pump-N-Grind Pepper Mill's streamlined stainless steel design allows for easy one-handed operation. Select a 1-1/2"-square turning blank (sold separately) to complete the mill.
WoodRiver Tool Pen with Stylus – Navigate touch screens with the handy stylus top, and use this multifunction pen to write or as a screwdriver, ruler, or to check for plumb.
Nite Ize Black Gear Ties (6", 12", 18" and 24") – Easily corral long cords and cables, and cords for kitchen appliances and electronic items with these ties.
O'Keeffe's Working Hands – For healthy hands, use this unique formulation of moisturizing ingredients that relieves dry, damaged skin.
$26-$50
Dremel VersaTip Butane Soldering Torch – This new Dremel tool is a 7-in-1 butane soldering torch that can solder, heat, melt, cut, weld, shrink and make decorative burns in a wide variety of materials.
Freeman Professional Fine Wire Stapler – Secure roofing, fix upholstery, and much more with this stapler.
Automaxx Sliding Bar Clamps– Maintain consistent clamping pressure with these easy-to-use bar clamps that feature Auto-Adjust clamping technology. Clamps are available in two bar sizes (11/16", 1") with different throat depths (2", 3") and six capacities (18" 16" 24" 12" HD 24" HD 40" HD).
Flexcut Beginner Craft Carver Set – Set includes an interchangeable palm handle, three carving blades, precut basswood boot blank, manual, and instructional DVD.
$51-$100
Dremel Micro-8V Max Cordless Rotary Tool – The new five-speed Micro-8V is the ultimate rotary tool for precise, light-duty tasks. It comes with several bits and other accessories.
Portamate Wood Rack – This six-shelf, six-level multipurpose rack holds 110 lbs. of material per level.
$101-$200
QuikBENCH Portable Workbench – Lightweight and easy to set up, this workbench is capable of holding up to 300 lbs. Convert two QuikBENCHES to sawhorses, and together they will hold up to 2,000 lbs. Connect two or more benches to form a workstation.
WoodRiver No. 1 Bench Hand Plane V3 – Based on the smallest Stanley bench plane design, the No. 1 is primarily a smoothing plane but can work in tight corners like a block plane. It is 5-3/4" long, l-1/2" wide, and 1.3 lbs.
WoodRiver No. 62 Low Angle Jack Plane – Originally advertised as a plane for heavy stock removal across the grain, the No. 62 is equally at home smoothing and shooting end grain. This versatile bevel up plane supports various blade angles and is a popular choice among users and collectors.
Carter & Son Toolworks Turning Tools – Tools are machined from the highest quality solid M42 high-speed steel heat-treated to HRC68. (3/4" Roughing Gouge, 3/8" Spindle Gouge, 5/8" Bowl Gouge, Spindle Gouge Detail Tool, 1/2" Skew)
DMT 8" Diamond Stones – The Extra Fine/Fine is a double-sided 1200/600- grit stone; the Fine/Coarse is a double-sided 600/325 -grit stone. Both come with a Duosharp Plus Base.
Easy Wood Tools Parting Tool – The Parting Tool's exclusive wedge-lock mounting system ensures a secure hold for the replaceable carbide cutter.
Work Sharp 3000 – You can monitor stock removal from above with the "see-through" wheel in this innovative air-cooled dry sharpening system for wood tools.
Over $200
JessEm Clear Cut TS™ Guides – Hold stock in place, regardless of size, and prevent kickback every time you make cuts at the table saw with these brand-new guides. JessEm also offers Clear-Cut Precision Stock Guides ($51-$100 range) for use with a router table.
Kreg Foreman Electric Pocket-Hole Machine – The new Foreman makes it possible for woodworkers, cabinet shops, contractors, and dedicated do-it-yourselfers to complete projects using Kreg pocket-hole joinery twice as fast and with half the effort than when using other jigs.
For more information about these products or Woodcraft, please contact the store nearest you, visit http://www.woodcraft.com or call (800) 535-4482.