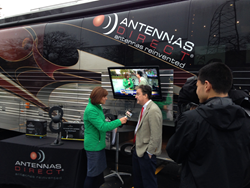 We can't wait to spread the gospel of free broadcast television across the country
Washington, D.C. (PRWEB) November 19, 2014
TVfreedom.org, Antennas Direct, and LG Electronics USA today announced a collaborative 'Broadcast TV Liberation Tour', which will kick off with a complimentary 1,000 antenna giveaway on Sunday, November 23, 2014, from 1:00 PM to 5:00 PM, at the Eastern Market, 225 7th St., SE, Washington, D.C. (Near the North Hall).
"One of the fastest growing trends in video content right now is an increasing demand for free, high definition broadcast television," said Richard Schneider, president and founder of Antennas Direct. "That's why we sold more antennas in September this year than we did our first four years combined in business. We can't wait to spread the gospel of free broadcast television across the country."
The first 1,000 patrons who attend the event will receive a complimentary digital broadcast TV antenna (C2-V model) and will have the opportunity to enter to win an LG 42-inch LED flat-panel high-definition television (HDTV).
"Our coalition is extremely pleased to be part of a collaborative effort that gives families across America new opportunities to access over-the-air broadcast TV via a digital antenna in their own homes without being charged," said TVfreedom.org spokesman, Robert C. Kenny.
Designed to help viewers across America access the most-watched and diverse broadcast TV programming – all for free – on an HDTV set, the year-long tour includes antenna giveaways and other promotional prizes in up to 25 U.S. cities, including Toledo, Indianapolis and Huntington, WV.
John I. Taylor, Vice President of Public Affairs for LG Electronics USA, said, "The nation's transition to all-digital broadcasting back in 2009 paved the way for continuing consumer interest in receiving high-quality digital TV signals via antennas. While consumers access video programming in many ways these days, broadcast television remains a key part of the media mix, and demonstrations such as these help consumers see what's available today."
The tour's centerpiece is the Nov. 23 event in the nation's capital at Eastern Market, a Capitol Hill tourist destination that features a weekend farmers' market and arts and craft displays. In addition to providing the 42-inch TV for the drawing giveaway, LG Electronics is setting up 12 HDTV sets featuring the multiplicity of broadcast programming from local TV stations in the Washington, DC metropolitan region. In Washington, residents have access to more than 30 local broadcast television channels via an antenna, including top-rated network TV programming; local news and weather; live sports; and multicultural networks like Univision and Bounce TV—a 24/7 all African-American TV network.
"The multi-city tour will remind people that all of this programming is available without charge via an antenna and that local broadcast TV continues to offer tremendous value to television viewers across America," Kenny said.
###