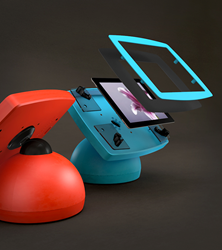 Google's new Nexus 9 will fit beautifully into all Armodilo tablet enclosures and stands, thanks to our flexible Tablet Fit Kit system
Waterloo, ON (PRWEB) November 19, 2014
Utilizing a patent-pending Tablet Fit Kit™ system, Armodilo's award winning tablet enclosures and stands are the only small footprint kiosks on the market that are designed to accommodate a wide variety of tablet devices quickly and easily right out of the box.
"Google's new Nexus 9 will fit beautifully into all Armodilo tablet enclosures and stands, thanks to our flexible Tablet Fit Kit system", states Iles Guran, Founder & Creative Director. "Our flexible system allows us to easily support a wide variety of tablets, including the Nexus 9 – which will be available immediately", adds Guran.
Armodilo Display Solutions currently supports over 50 unique tablets including: the full line of Google Nexus tablets, the full Apple iPad line, the full line of Samsung Galaxy tablets, the complete line of Microsoft Surface tablets and a variety of other devices. Custom Tablet Fit Kit configurations are also available for tablets not listed for a minimal one-time setup fee of $49.
About Armodilo Display Solutions
Armodilo Display Solutions is a multiple award-winning tablet display manufacturer located in Ontario, Canada. With a variety of tablet display stands and accessories for trade show, event, retail and corporate markets, Armodilo sets itself apart by creating highly refined products for discerning brands around the world.
For more information about Armodilo, contact:
Iles Guran Founder & President
Armodilo Display Solutions
1-800-975-5946