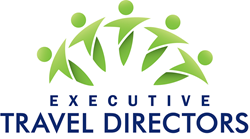 Chicago, IL (PRWEB) November 20, 2014
It is no secret that corporate Meeting Planners have a lot of responsibility on their plate. As a third-party meeting supplier that caters to Meeting Planners, Executive Travel Directors (ETD) not only provides as-needed meeting support staff. In order to lighten the Meeting Planner work load, ETD offers a professional, affordable service to manage said staff. Here are few reasons our clients outsource for independent Travel Directors, as opposed to using internal administrative staff, to coordinate the logistics of their meetings and incentive programs:
1. Convenience
Meeting Planners are able to contract staff on a program-by-program basis, rather than retaining internal staff. This can be done with a quick call to one of our experienced Account Managers.
2. Full Service
Utilizing ProgramWire.com, ETD's online Travel Director portal, ETD provides staff, performs pre-trip coordination, program launch, and post-trip invoicing.
3. Simplified Administration
All expense reports and final bills are reviewed, processed, reconciled, and returned by ETD's Account Managers in a timely manner.
4. Geographic Diversity
ETD's active roster of over 2,500 Travel Directors allows Meeting Planners to access the on-site support they need regardless of location and travel budget.
5. Pricing
The multi-level pricing structure created by ETD allows clients to determine the experience of the Travel Directors they use on-site of their meetings and incentive programs.
6. Risk Management
ETD assumes responsibility of tax reporting and carries comprehensive insurance coverage for all Travel Directors.
7. Required Skills
Clients are able to tailor-fit the skill and experience level of the Travel Directors needed on-site. ETD's seasoned Travel Directors are constantly honing their skill-sets and using ProgramWire.com, to update us of their constantly growing abilities. Our independent Travel Directors are able to provide expertise and experience in the following on-site services:
Transportation
Food and Beverage
Rooms
Hospitality Desk
Executive (VIP) Services
Activities
Business Meetings
On-Site Leads
Executive Travel Directors (ETD) is a Chicago-based company providing onsite logistical assistance to business meetings, incentive trips, and medical educational sessions. Since 1988, ETD has operated on respect for meeting planners and the success of their programs. ETD hosts a registry of over 2,000 Travel Directors and provides staff to more than 5,000 programs annually. For more information on Executive Travel Directors, please visit us at http://www.traveldirectors.com.