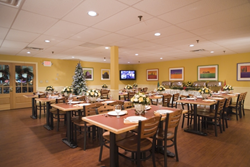 Everything went very smoothly and just as planned. Your facility is perfect for our large group. The catering was great and the overall service was wonderful. -Anne Camilli, SVP @ Bank of America
New Castle, DE (PRWEB) November 21, 2014
Bowlerama has an early kickoff this 2014 Holiday Season with its Perfect Holiday Party Program. They tout successful "we do all the work" parties for such companies as Bank of America, Barclay's Bank, Boys and Girls Clubs of America, Capital One, Big Brothers and Big Sisters, Discover Card, and many others both large and small.
The concept is based on a food and beverage package with bowling. The food choices are extensive with high quality at affordable prices. They add bowling in their spacious 62-lane facility to create an activity in which everyone is able to participate. Ample parking with a highly qualified staff caters to large parties and yet they maintain small party venues as well. The facility is professionally decorated for the Holiday theme, and as Barclay Bank states, "the well appointed facility with a holiday feel makes the corporate gathering less formal and more fun, everyone finds something to do." The Spare Rib, Keglers' Sports Bar & Pub, along with the KidZone arcade give what Big Brothers and Sisters claim to be "fun for all ages".
Management adds that ample, free, secure parking, along with being conveniently located to Wilmington and the surrounding tri-state, draws a large audience. Located near I-95, I-295 and I-495 makes it easy to find. Bowlerama being located at 3031 New Castle Avenue in New Castle Delaware is also near the Delaware Memorial Bridge.
For more information regarding Bowlerama Family Entertainment Center's Party Programs call them at 302.654.0263. Find out what everyone is talking about. Also you can click here to visit their website at BOWLERAMA.US to get their printable brochure.