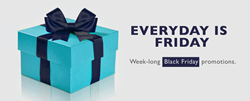 This is a weeklong savings event that you don't want to miss!
Montreal, Quebec (PRWEB) November 19, 2014
With the cold months fast approaching, everyone is in need of a treat and there's no better time to try out evoDerma's beauty and relaxation tools. So, from Friday November 21st until Friday November 28th, get a head start on Black Friday this year with discounts on evoDerma's best sellers: the NOOME™ Anti-Aging Motion, ELITE professional at-home IPL hair removal system, and the PRONECK massager. These devices are sure to put a smile on anyone's face as all three products on promotion differ so as to meet the holiday wish list for all friends and family.
The NOOME™ Anti-Aging Motion is a sophisticated device that works to strengthen and repair the skin while combating the leading causes of facial aging: the decrease of collagen and elastin production, muscle strain and slow skin cell turnover. Incorporating NIST technology (non-invasive sub dermal therapy), NOOME™ attenuates fine lines and softens wrinkles caused by facial tension and leaves users with a fresh and youthful-looking complexion over time.
Combined with the latest in IPL (Intense Pulsed Light) technology and evoDerma's own innovative AMP (Advanced Multi-Pulse) technology, the ELITE is one of the highest quality hair removal products on the market. With a perfect combination of IPL and evoDerma's own AMP technology, this state-of-the-art device works to deliver faster light pulses in one application that result in a more efficient and in depth treatment of unwanted body hair. Perfect for anyone, ELITE is designed for both men and women and is intended for home use. ELITE comes with a disposable lamp cartridge, each equipped with between 10,000 to 50,000 flashes (depending on the selected intensity level) that work to deliver progressively permanent hair reduction.
PRONECK is among the most high-tech devices in compact luxury relaxation tools. The PRONECK Massager is an at-home wireless massage system that relieves stress and eases muscle tension. Incorporating massage techniques traditionally used in spas, PRONECK stimulates blood flow and improves sleep. A variety of massage settings such as heat massage, vibration, low frequency electric impulses and range of intensity are selected from a sleek and stylish pocket-sized remote control. Blue was carefully chosen as the color to appear on the massager and remote control due to its well known calming effects. Blue is soothing and encourages physical and mental relaxation.
Avoid crowded stores this coming week and go online to take advantage of these luxurious beauty and relaxation tools for a more youthful and smoother complexion, without having to leave home. Even if the promotion is not used for getting others gifts, why not take advantage of evoDerma's promotion to beat the winter blues and build a customized at home spa treatment with all three devices?
Terms and Conditions apply. Visit http://www.evoderma.com or call 1-855-EVO-DERM (1-855-386-3376) for more information.
*Offer valid only on NOOME™ Anti-Aging Motion, ELITE Hair Removal system and the PRONECK massager while supplies last. No substitutions once the order is processed. Not valid on previous purchases, disposable lamp cartridge purchases or in combination with any other evoDerma offers. Offer may be modified or discontinued at any time without notice.