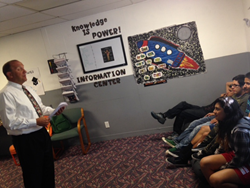 "It is always a pleasure working with groups that want to make a difference in the community and Harbor certainly is doing that"
Anaheim, CA (PRWEB) November 18, 2014
In support of Alcohol Awareness in the Community and the Prevention and Education of Alcohol Access to Minors, Boys & Girls Club of Anaheim announced that it has incorporated the Health Alliance on Alcohol series into their existing alcohol awareness education resources at its four locations in Anaheim. Underscoring the importance of alcohol awareness year-round, Boys and Girls Clubs of Anaheim will have the materials available in their Information Areas and used in the Parent Orientation training on an on-going basis for all parents/teachers/mentors.
The materials from the Health Alliance on Alcohol directly support the education and prevention programs offered by the Boys & Girls Club of Anaheim to their youth and families. The ongoing support at the Boys & Girls Clubs of Anaheim helps ensure the best outcomes that prepare youth to succeed in school and in life.
A national education initiative addressing underage consumption of alcohol through adult/child communications, the Health Alliance on Alcohol provides materials to help parents, guardians, teachers and mentors start and continue the tough conversations with youth around alcohol and the issues children face.
"We are very happy to partner with Harbor Distributing in offering this much needed alcohol awareness program for our members. It is always a pleasure working with groups that want to make a difference in the community and Harbor certainly is doing that", said Michael Baker, Executive Director of the Boys & Girls Clubs of Anaheim.
"We are proud to partner with the Boys and Girls Clubs of Anaheim to promote this most important topic. The Health Alliance on Alcohol materials are a great resource to help communicate the risks associated with underage drinking. It is critical that we keep Alcohol Awareness communications ongoing throughout the year in our communities", said Tom Reyes, President of Harbor Distributing.
"Since 2005, the Health Alliance on Alcohol has been dedicated to preventing underage drinking," said Stacey Tank, SVP of Corporate Relations at HEINEKEN USA. "We are pleased to support Harbor Distributing in providing impactful tools on how to discuss alcohol with teens to the parents and mentors of the Boys & Girls Club of Anaheim. We are proud of our distributor for engaging the community on such an important issue."
For more information on resources available to help communicate with youth about alcohol consumption and responsible behavior, please visit: http://healthallianceonalcohol.com.