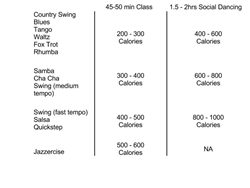 Burning calories is fun with dancing.
(PRWEB) November 20, 2014
Dance Pizazz offers special discounts for returning students to start dancing and develop healthy exercise habits that not only shed pounds this holiday season but also are social and fun!
Staying physically fit takes work and there isn't a quick fix to magically melt those pounds off, but dance is a fun activity that can help get and keep individuals on track. Popular shows like "Dancing with the Stars" and "So You Think You Can Dance" have popularized the old form of exercise we call dance. According to http://www.atomicballroom.com dancing a few hours a week will help individuals improve their cholesterol levels, reduce their risk of heart attack, breathe better, and prevent or reverse weight gain. Many experts advise 10,000 steps a day for optimal health. In fact, "Studies have shown that by replacing sedentary time with two one-hour classes a week of low-intensity social dancing can add about 2,000 steps to a person's daily total.
Developing new healthy exercise habits and losing weight especially during the holidays is easier with a support system. Dance Pizazz is a full time dance studio offering lessons in a variety of social dance styles with weekly social dances. Grab your sweetie and drop-in for a Tango lesson and lose the weight together. Or meet other dance enthusiasts at our weekly night social dances and lose weight or keep fit while you are having fun.
Anyone can dance and reap the benefits no matter your age or ability. Dance keeps us Youthful, Happy and Healthy!