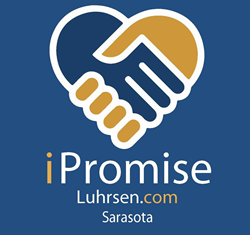 Sarasota, Florida (PRWEB) November 19, 2014
As witness to a growing number of crashes caused by texting and driving, Luhrsen Law Group, a Sarasota-based personal injury firm, began looking for a positive way to address the problem. In early 2014, it launched the iPromise Pledge and Scholarship campaign. iPromise aims to reduce the incidence of distracted driving by encouraging teens and their parents to mutually pledge not to text and drive. Luhrsen Law Group's inaugural iPromise Pledge and Scholarship ran last spring and over 400 teen drivers and their parents took the pledge.
Based on that success, Luhrsen Law Group kicked off its second campaign in September and plans to run the initiative twice yearly. The fall campaign gained over 260 more pledges at its close on Veteran's Day. As with its spring campaign, five teens who took the pledge were selected as winners of $1,000 scholarships. The Fall iPromise Pledge winners were Kelly Visicaro (Tampa, FL), Benjamin Weiner (Tampa, FL), John Rivera (Lutz, Fl), Amanda Wade (Tampa, FL) and Mason McColl (Bradenton, FL).
The growing number of distracted driving crashes runs contrary to current law, public service campaigns and societal attitudes. A 2013 Florida law made texting and driving illegal, albeit as a secondary only offense. More significantly, research shows that while the vast majority of drivers (98% according to an AT&T survey) recognize the dangers of texting while driving, approximately 75% of drivers admit to still doing it.
Luhrsen, an advocate for improvements to Florida's texting while driving law, sees his firm's iPromise campaign as another important tool to end distracted driving. "My firm would much rather educate the public, then represent someone hurt in a crash that was 100% preventable!" To learn more about Luhrsen Law Group and the iPromise scholarship campaign, visit the firm's website.
About Luhrsen Law Group
Luhrsen Law Group, based in Sarasota, Florida, is proud to be a family-owned firm that helps Florida families recover after serious injuries and from legal wrongs. The firm has represented Floridians in a variety of personal injury, wrongful death, and consumer law cases. Our focus and expertise are primarily on cases involving motor vehicle accidents, bad faith insurance claims, negligent security, liquor liability, and pedestrian accidents.