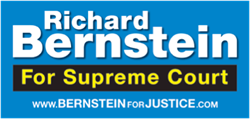 Detroit, Michigan (PRWEB) November 20, 2014
"Fairness For All" Theme For Bernstein's Judicial Candidacy
History was made Tuesday night when 40-year-old Richard Bernstein won a seat on Michigan's Supreme Court. Bernstein's victory is significant because the Bloomfield Hills native has been classified as legally blind since birth.
He is the first blind person to run for statewide judicial office in Michigan, according to MichiganBar.org and the first completely blind candidate in the United States to win election to a state Supreme Court.
A graduate of the University of Michigan and the Northwestern University School of Law, Bernstein has forged a successful legal career and won several landmark, precedent-setting court decisions to ensure that everyone has fair access under the law.
Bernstein's legal work wins recognition and awards from several groups around Michigan and the United States. In addition to his legal work, he was elected statewide to the Wayne State University Board of Governors, serving for two years as chair and two years as vice chair. He has also served as a professor at the University of Michigan.
In his spare time, Bernstein is an endurance athlete, completing 18 marathons and an Ironman Triathlon in Coeur d'Alene, Idaho on June 22, 2008.
The Ironman includes a 112-mile bike ride, 26.2 mile marathon and 2.4-mile swim.
Bernstein posted early this morning the following message on in his Facebook page thanking them for their support in the election:
"Thank you, you helped us make history. I will always honor your trust in my campaign during my service on our state's highest court. I promise to approach my work with integrity and fairness for all.
"Please know that I am profoundly grateful to you, and look forward to making you proud."
Richard Bernstein has been head of the Sam Bernstein Law Firm's public service division since 1999.
"I will bring a unique perspective to the Court," he said. "I am not driven by partisan ideology, but by a deep sense of fairness, a respect for the law, and a commitment to serve the people of the State of Michigan."
For more on Bernstein's legal career, record of service and accomplishments, see http://www.bernsteinforjustice.com.
Contact: TJ Bucholz, 517.898.4641 or tj(at)vanguard-pa(dot)com