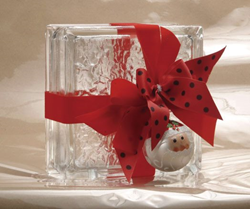 DecoBloc can be used for any holiday or occasion, the only limitation is your own imagination.
Pittsburgh, PA (PRWEB) November 19, 2014
Pittsburgh Corning Corporation, a leader in the glass block industry for over 75 years, is pleased to debut their revamped DecoBloc™ craft website. The DecoBloc™ site was redesigned to assist crafters and artists. A how-to video and idea page with dozens of new projects are featured to spark creativity in time for the Holiday season.
Pittsburgh Corning's DecoBloc™ is a wonderful outlet for artists and crafters to showcase their creative expression. The blocks are perfect for holiday decorative projects, but have an infinite number of uses. "DecoBloc can be used for any holiday or occasion, the only limitation is your own imagination," says Mary Lynn Bruce, Director of Marketing for Pittsburgh Corning. "We are thrilled to share our new efforts and hope DecoBloc can inspire beautiful designs."
The recently released DecoBloc™ how to video features a Pittsburgh Corning designer sharing tips and tricks to create wonderful designs for the holidays, centerpieces, terrarium plant-holders, and other interior decoration ideas. DecoBloc™ glass blocks for crafting are a blank canvas to express your unique style. The use in Deco-style architectural designs combined with eye-pleasing dimensions and light-transmitting and light-diffusion characteristics makes DecoBloc™ the perfect foundation for a host of artistic uses.
Crafters looking to add inventive décor to their home can choose from three distinct styles and a range of sizes. DecoBloc™ VUE® pattern is a clear glass with complete visibility available in 8"x8", 6"x6" and 4"x8". While IceScapes® and the traditional Wavy pattern offer more light diffusion and lower visibility available in 8"x8" and 6"x6" sizes. A DecoBloc™ stand is also available to display your work of art.
About Pittsburgh Corning Corporation
Located in suburban Pittsburgh, Pittsburgh Corning is the leading glass block manufacturer of applied glass technology and systems for construction materials. Since 1937, Pittsburgh Corning has been on the forefront of innovative architectural glass block systems designing products that stand the test of time. As a leader in glass technology, Pittsburgh Corning provides glass blocks, high performance systems, cellular glass insulation, high performance windows, and designer shower kits for commercial, institutional, government and residential building applications.
For more information visit PittsburghCorning.com.