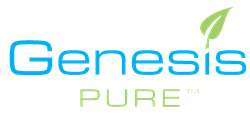 Dallas, TX (PRWEB) November 19, 2014
Live PURE Foods™ products, by Genesis PURE are designed for convenience without compromising the benefits of health and the desire for great taste. The PUREmeal™ Kit includes PUREsoup™ Mix, PUREvegan™ Shake, PROmila™ Bite, and PUREtrail™ Mix. The PUREmeal kit contains nearly 700 fewer calories than a typical fast food meal, provides 96% of daily recommended fiber, and has 44 grams of protein. "Fast food is easy access to terrible choices. Genesis PURE gives you the opportunity to make good choices," said Bobby Love, the company's president. With more options for healthier eating, Genesis PURE maintains its role as a trailblazer in developing healthier foods that satisfy the appetite, and appeal to the palate. The company has emerged as a leader in manufacturing foods containing natural ingredients.
PROmila Bites are flavorful, snack-size bars packed with 10g of protein, containing no additives or preservatives – available in Cacao Nib & Almond and Coconut-Pecan. PUREvegan Shake, is now available in Peanut flavor, and makes a great option for a convenient meal replacement. The PUREvegan Shake is also free of soy, dairy, and gluten. Another addition to the Live PURE Foods line is the Vegetable Bean Soup Mix, an easy-to-prepare, appetite-filling option. The PUREtrail Mix contains less sodium and less sugar than typical trail mixes, and is made with raw-organic almonds and other natural nuts and berries. Along with the PUREmeal Kit, items from the meal kit can now be purchased separately.
Genesis PURE is on a mission to help people live healthier through small changes in their daily eating habits. With these new food products, individuals looking for convenient, healthy alternatives to fast food, now have cost effective choices to consider.
About Genesis PURE
Genesis PURE is a rapidly growing global leader in natural health products. The company's products combined with their proven philosophy of Cleanse, Balance, Build, Love, help people to live healthier and more fulfilling lives.