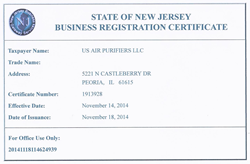 Commercial air purifiers are not an optional luxury in these cases; they are a necessity,
Peoria, IL (PRWEB) December 04, 2014
USAirPurifiers.com receives their New Jersey Business Registration Certificate to further help New Jersey businesses with their air purification needs. This is especially helpful for the commercial air purifiers that are used in police evidence rooms and morgues. Knowing that air purification is essential for a person's health especially in a commercial setting, USAirPurifiers.com decided to go the extra mile and become registered with the state of New Jersey.
Barb Lulay, owner of USAirPurifiers.com, explained the importance of healthy air in the work environment especially pertaining to Air Purifiers for Evidence Rooms for law enforcement agents. Lulay says, "People don't realize how harmful the mold is for the people working around the evidence rooms. These evidence rooms hold marijuana and other harmful drugs that can mass produce mold causing the people around it to get terribly sick to the point they can't work anymore." Lulay continues, "Whenever employees are sick whether it is minor or major such as cancer, the employee, of courses, loses greatly financially and emotionally. The company also is negatively affected because the employee is unable to work to their fullest potential and/or the cost of insurance can rise. A quality air purifier is a simple way to naturally reduce the risk of diseases."
"Commercial air purifiers are not an optional luxury in these cases; they are a necessity," says Lulay.
USAirPurifiers.com carries a wide array of residential and commercial air purifiers for virtually anyone's needs. The site shows the most popular units for air purification, humidifiers, portable air conditioners and more. However, if there is a unit that you don't see, just contact the owners and they'd be glad to help. This is just one of many reasons why they have an A+ rating with the BBB and have a 5 star customer service rating.
New Jersey requires businesses such as the police departments to purchase from companies that carry a valid New Jersey Registration Certificate. This can be difficult when much business is now handled over the internet with companies that are outside of the state. Not all businesses are cooperative or want to put in the extra effort to be able to sell in New Jersey. However, that didn't stop USAirPurifiers.com because they knew how important proper air purification is especially for evidence rooms and morgues so they immediately went the extra mile to earn the certificate so they could help protect the health of employees in the state of New Jersey.
About the company:
Barb and Dick Lulay's customers are passionate about reducing their risk of disease. Their customer service and product expertise make shopping with http://www.USAirPurifiers.com and http://www.OttersDream.com an ideal experience. With a full line of natural products such as air purifiers, natural supplements, green cleaners, weight management and paraben free skin care, families find they can conveniently do their household shopping online with home delivery. As successful business owners, the Lulays offer a mentoring program for other aspiring entrepreneurs. They present exceptional marketing tools and a training program that shows how to generate immediate income as well as long term passive income.