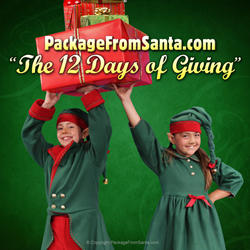 "We wanted to create a way for our customers to give the gift of Santa while giving back to organizations and causes that are near and dear to their heart." Dale Gruber, Founder, PackageFromSanta.com
Washington Township, MI (PRWEB) November 19, 2014
Washington Township, MI – Michigan-based company, PackageFromSanta.com has partnered with twelve local and national charities and created its 12 Days of Giving promotion, providing families with an opportunity to give back this holiday season.
For eight years, family owned and operated PackageFromSanta.com has been spreading the joy and magic of Santa Claus to children across the country during the holiday season. This year, the team behind PackageFromSanta.com wanted to give customers and opportunity to not only give the gift of Christmas, but also give back to those in need.
Beginning on Cyber Monday, December 1, 2014, PackageFromSanta.com will launch its 12 Days of Giving promotion allowing customers to save 15% off of their purchase, and 15% of the customer's purchase will be donated to the charity of their choice. Customers will have the option to select one of twelve charities to give to including: Alternatives For Girls, Angels of Hope, Covenant House, Detroit Dog Rescue, Detroit Rescue Mission Ministries, Forgotten Harvest, Hope Water Project, Make A Wish Foundation, St. Jude Children's Research Hospital, Toys For Tots, Wigs For Kids, and Wounded Warrior Project.
Purchases must be made via the special 12 Days of Giving promotional website.
"We wanted to create a way for our customers to give the gift of Santa while giving back to organizations and causes that are near and dear to their heart. We've partnered with a variety of charities to ensure there's something that hits home for everyone. We're very excited to be able to help so many in need," said Dale Gruber, PackageFromSanta.com founder, along with co-founder and wife, Carey Gruber.
About PackageFromSanta.com
PackageFromSanta.com is a Michigan family owned business in operation for 8 years offering one of a kind, proprietary items including personalized Santa phone calls, Santa videos, letters from Santa, and packages from Santa Claus. All products are made in the USA. Santa videos feature the REAL bearded Santa that doesn't cover his mouth when saying children's names, a unique feature only provided by PackageFromSanta.com. PackageFromSanta.com is the only Santa Letter website registered with the Better Business Bureau (BBB) and has an A rating.
# # #