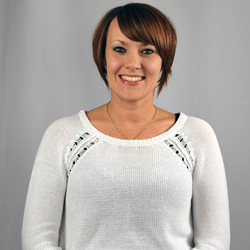 Tonia has a great personality and real knack for connecting with people. When you combine those traits with her Passion, Skills, and Integrity you end with great potential for Tonia to excel in this role- Matt Berney, Director of Sales
Lima, Ohio (PRWEB) November 19, 2014
Tonia Wodarski has been an Associate of Range Kleen Mfg., Inc. for the past 3+ years, hired on February 14, 2011 as the front line contact for the Range Kleen Mfg. Inc., and Berndes Cookware Customer Service Department. Tonia's upbeat attitude has shown to be an asset in creating relationships through customer service and she has done an outstanding job assisting consumers in various product questions, orders and returns.
Tonia received a promotion July 1, 2013 to Sales Services Coordinator. While still handling customer support questions and administration duties, she had taken on sales support processes.
As of November 12, 2014 Tonia is now in the role of the Internal Sales Coordinator. Tonia is very personable and in this new role, Tonia will continue to build client relationships and attract new client relationships while working on sales developments for In House Accounts.
Tonia's go getter attitude and willingness to Take Care of the Customer shows that she has done a great job not only in customer service with consumers and clients but as well as consistently creating positive results in various sales support processes.
About Range Kleen Mfg., Inc.
Range Kleen Manufacturing, Inc. is a Lima, OH based company manufacturing household products sold to major retail chains globally and has been taking care of the customer (TCOTC) since 1971. Its product divisions include: Original Equipment Manufacturing Quality (OEM) replacement drip pans for ranges & stoves; Non-stick Metal Bakeware; Kitchen Decorative products specializing in exclusive licensed designs; Storage, Organization, insulated food and beverage bottles and household cleaning supplies. Range Kleen Introduced their own line of cookware- Stainless Steel and Enameled Cast Iron as well as pot racks in 2007.
Effective December 21, 2009, Range Kleen Manufacturing was pleased to announce the partnership with Berndes Cookware USA and has taken the lead of all sales, marketing and shipping of Berndes Cookware USA from their International Headquarters in Lima, Ohio.