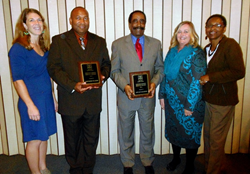 Waycross, Georgia (PRWEB) November 20, 2014
Easter Seals Southern Georgia employees, board members and volunteers gathered at Captain Joe's Seafood restaurant on Monday November 17th. Waycross Mayor Clarence Billings and Ware County Commission Chairman, Jimmy Brown, was in attendance.
Distinguished Service Awards were given to:

Waycross Tourism and City of Waycross-accepted by Mayor Clarence Billings
Mattie Lovell
Allison Herrin
Ben Bennett
Kim Gibson
Dunkin Donuts
Easter Seals Southern Georgia Employee awards:

Megan's House Employee of the Year-Mary Davis
Property Manager of the Year-Cynthia Evans
Waycross Direct Support Professional of the Year-Jessie Howard and Megan Moore
Outstanding Team Player-Karen Flowers
Outstanding Residential Regional Manager-Sheila Peach
Carolyn Walker was recognized for 5 years of service.
Super Star awards were presented to: Adrian Arnold, Ella Murphy and Lainey Williams.
Easter Seals Southern Georgia provides exceptional services to ensure that all people living with disabilities or special needs and their families have equal opportunities to live, learn, work and play in our communities. For more information call our office at 229-439-7061 or visit our website at http://www.easterseals.com/southerngeorgia