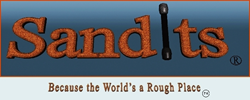 "SANDITS® have hundreds of uses", said Paul Werlin, inventor of SANDITS® and President of Orion Products
Largo, Florida (PRWEB) December 01, 2014
Orion Products Group is introducing new "wedge-shape" SANDITS® to the product line. The new wedge-shape SANDITS® are the perfect tool for hard to reach places and where precision is needed. SANDITS® are reusable and disposable 6-inch "sticks" with each end coated with either 120/180 or 400/800 sanding grit, bonded with marine-grade epoxy making them perfect for a wide range of uses including:

Home hobbies such as model making, crafts and jewelry making
Automotive, motorcycle and bicycle maintenance and repair
Marine use and wet applications
Removing rust, corrosion, paint, grime
Smoothing wood, plastics and metal
"SANDITS® have hundreds of uses", said Paul Werlin, inventor of SANDITS® and President of Orion Products. "They've been used on boats, motorcycles, wood-working projects, electrical work, jewelry making, auto maintenance and even scrapbooking to distress paper. Their low cost and unique shapes make them ideal for every toolbox, workshop, artist, and crafter in America," he said. "In less then 2 years, we've sold almost 500,000 SANDITS® and they can now be found in hundreds of retail outlets as well as many on-line stores."
Orion Products is planning additions to the SANDITS® line with additional shapes and sanding/polishing grits for a wide range of home and professional uses.
SANDITS® are patent pending and are available at retail on and online stores as well as at http://www.sandits.com for $6.99 for an 8-pack (plus shipping and handling).