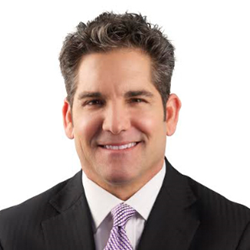 The more people who learn to sell the stronger the global economy will become.
Miami Beach, Florida (PRWEB) November 19, 2014
International Sales Master and New York Times bestselling author, Grant Cardone continues to expand his global reach and influence. His 2013 Axiom Award Winning book Sell or Be Sold, his 2nd book The Closers Survival Guide and his cloud-based sales training platform Cardone University, are all being translated into Czech and Bulgarian. Businesses in the region are eagerly anticipating the arrival of these exceptional sales training tools.
Katerina Varbanchovska who discovered Grant Cardone in early 2014 while searching for sales related content on YouTube, will take on the translation project. Fascinated by Cardone's down-to-earth, engaging yet direct approach she found herself binge watching his video channel for hours and hours within the first few days of finding him.
"I found Grant Cardone and I was hooked. After watching Grant's videos and learning about his books and sales training platform Cardone University, I knew other business people in my region would benefit from it. I contacted Mr. Cardone and sold him on my translating his books and online university into Czech and Bulgarian. It was in line with Mr. Cardone's interest in global expansion so it made sense."
The books and Cardone University platform are expected to be ready by late 2014, early 2015. Ms. Varbanchovska already reported a hunger for sales training and already secured interest from players in the fast moving consumer goods industry, insurance, banking and automotive dealers. Interestingly, we also plan to give early exposure to university students to teach them the art of selling and help them to develop the right attitude necessary for any future career success. Finally, the rise of start-ups makes the platform a must for entrepreneurs who are on their own trying to get products or services into the marketplace.
Varbanchovska adds, "We know that learning how to sell and close transactions is not a 1- or 2-day process. It requires a full commitment to reading, observing, practicing and drilling until the skills are not an effort anymore, but a way of working or living. This is the philosophy and approach Cardone University offers. The platform allows people to constantly and gradually upgrade their skills and over time change their attitude and approach to sales. As they become stronger they see results."
Grant Cardone, is excited to partner with Katerina Varbanchovska to bring his sales training to her region. "The more people who learn to sell the stronger the global economy will become. I truly believe this. There are plenty of people out there selling but they were never trained. They don't know there is a specific technology to follow for a sales transaction to be successful. Many people fall into sales and this is fine. I fell into sales myself but once I committed to being great at sales I studied everything I can get my hands on. Training and drilling is key. This partnership with Ms. Varbanchovska helps me bring Cardone University to those who want to work hard, commit to sales training and get great at selling."
This is the 3rd translation of Cardone University. The platform is also available in Spanish and in Russian. Cardone's award-winning books have been translated in over 12 languages including French, German, Spanish, Korean and Portuguese.
About Grant Cardone:
Grant Cardone is a New York Times bestselling author of four business books since the 2008 economic collapse, an international speaker and business innovator. Cardone owns multiple companies including software and technology business, a consulting company to Fortune 500 companies and Cardone Acquisitions, a national real estate company. In September 2014, Grant Cardone launched of Whatever It Takes Network a new digital hub featuring 24/7 on-demand programming designed to offer success minded individuals the insights they need to thrive in business and life. You can follow Cardone on Twitter @grantcardone or visit http://www.grantcardone.com/
Cardone On-Demand and Cardone University were introduced in 2010 and have become industry leaders for web-based sales training. These are comprehensive sales training and sales management courses provided online with over 1100 segments of content broken into exact modules and curriculums. Cardone's online sales training universities provide sales meetings, testing, reporting, and sales solutions for every selling situation imaginable. At the start of 2013, sales organizations have viewed and tested on over 10 million videos.