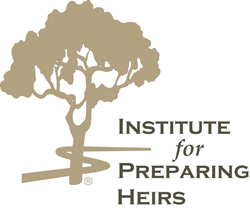 This book will help those families who truly want to build lasting unity from one generation to the next.
Pasadena, California (PRWEB) November 20, 2014
Institute for Preparing Heirs (IPH) announced the release of its new 157-page book, Family Meetings: Creating Fun, Meaningful Conversations . . . Beyond The Money, available at its website http://www.preparingheirs.com
Written by Vic Preisser, co-author with Roy Williams of the highly acclaimed books, Preparing Heirs and Philanthropy, Heirs & Values, Family Meetings was written for families seeking guidance on how to have meaningful, unifying family conversations in preparation for the eventual distribution of family wealth and assets to the children and grandchildren.
"This book will help those families who truly want to build lasting unity from one generation to the next, but may not know where to begin," said Mr. Preisser, IPH co-founder. "Whether it's an informal dinnertime conversation or weekend retreat with a structured agenda, family meetings are wonderful get-togethers where families bond and memories are created. But it's important to follow a few simple rules like the importance of listening and allowing all voices to be heard, and inviting all family members to participate, including spouses."
Family Meetings is also a helpful resource for financial advisors and estate attorneys to offer clients who are planning to transfer money and other family assets to the next generation and want to ensure the family harmony is not disrupted post-estate transfer.
Written in question and answer format, Family Meetings shares the story of an actual family that began holding family meetings to bring the family closer together by involving the children in family philanthropy. Family Meetings offers sample meeting agendas and a series of conversation topics with guidelines for the family. Topics include: sharing the family legacy, developing a family wealth mission, identifying roles for heirs, encouraging family financial education, maximizing the value of trusted family advisors, and including health and wellness as part of wealth planning.
What others are saying about Family Meetings:
"Family Meetings can be opened to any page and valuable information appears . . . understandable and highly useful." Robert A. Kenny, Ed.D., North Bridge Advisory Group
"Family Meetings is a highly readable guide to developing strong communications among the generations, encouraging family love and unity." Lorrie Schwan, Family Trustee
To purchase a copy of Family Meetings, go to http://www.preparingheirs.com