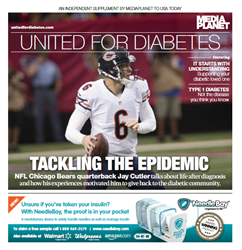 New York, NY (PRWEB) December 07, 2014
The CDC estimates that by 2050 one in every three Americans will be living with diabetes. This modern American epidemic currently affects over 28 million people, and that number only continues to grow. Today, Mediaplanet announces distribution of the third edition of "United for Diabetes," a campaign that aims to motivate readers to educate themselves about the risk factors, management options, and realities of living with diabetes.
The print component of "United for Diabetes" will be distributed within this weekend's edition of USA Today in the New York, Pittsburgh, Cleveland, Houston, Dallas, Phoenix, New Orleans, and South Florida markets, with a total circulation of approximately 450,000 copies and an estimated readership of 1.3 million. The digital component is being distributed nationally through a vast social media strategy and across a network of top news sites and partner outlets. To explore the digital version of the campaign, click here.
United for Diabetes features an exclusive interview with Chicago Bears quarterback Jay Cutler, revealing his initial struggle with his diagnosis on and off the field. He shares his personal realization as motivation for the next generation. "You can do anything any other athlete without diabetes can do. Diabetes isn't a crutch or an anchor. It's just another obstacle to manage and work around."
Nicole Johnson, better known as Miss America, 1999, also weighed in on the realities of living with type 1 diabetes and how the condition drives her to continue to give back to the diabetic community. "I am more focused than ever on making sure people with diabetes know they are not alone."
This campaign was made possible through the support of leading associations including the JDRF, the American Association of Diabetes Educators, Defeat Diabetes, the Diabetes Research Institute Foundation, and many more.
About Mediaplanet
Mediaplanet is the leading independent publisher of content-marketing campaigns covering a variety of topics and industries. We turn consumer interest into action by providing readers with motivational editorial, pairing it with relevant advertisers, and distributing it within top newspapers and online platforms around the world.