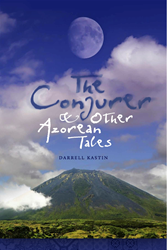 "An extremely impressive blend of escapism and portraiture of the human condition, following in the footsteps of Jorge Luis Borges and Gabriel Garcia Márquez." Kirkus
Sacramento, CA (PRWEB) November 20, 2014
Portuguese-American author Darrell Kastin is the winner of the 2014 USA Best Book Awards, in the Fiction/Multicultural category, for his short story collection The Conjurer and other Azorean Tales (2012) published by Tagus Press, at UMass, Dartmouth, MA, and distributed in the United States by UPNE, and in Europe by Oxbow Books, Lda. USABookNews.com announced the winners and finalists on November 12, 2014. The collection was also published as an ebook, and received the Silver prize in the 2014 Global Ebook Awards, for both Short Stories and Fiction/Multicultural categories.
The book was praised in a recent Kirkus Review: "Kastin's captivating stories are beautifully crafted, transporting readers on these strange journeys...In this stellar show of magical realism, the supernatural is accepted as fact by characters who observe or encounter it. An extremely impressive blend of escapism and portraiture of the human condition, following in the footsteps of Jorge Luis Borges and Gabriel García Márquez." For the complete review visit: https://www.kirkusreviews.com/book-reviews/darrell-kastin/the-conjurer-and-other-azorean-tales/
His debut novel, The Undiscovered Island, published in 2009, is set on the islands of Faial and Pico in the 1980's. It won the 2010 Silver IPPY Independent Publisher's Award for Multicultural Fiction/Adult. Its first edition has been out of print but a new revised edition is forthcoming. His fiction has appeared in, The Seattle Review, The Crescent Review, The Windsor Review, The Blue Mesa Review, NEO Magazine, Margins, Gávea-Brown, Magic Realism, and elsewhere.
A novelist, poet and composer, Darrell Kastin was born in Los Angeles, California, of Azorean and Russian-Jewish descent. He is a former bookseller, and book scout. Kastin was first introduced to the Azores, during a family reunion, in 1972; he lived on Pico and Faial in 1987-88, when he began writing stories inspired by the islands, the people, the landscape, and their history. He has visited the islands many times since. The Azores archipelago is located in the middle of the Atlantic Ocean, halfway between New York and Lisbon. Portuguese-Americans of Azorean origin live in all American states but larger communities are found in California, Massachusetts and Rhode Island. Many were involved in starting or contributing to the dairy, farming, and fishing industries in the United States. This year, the nine Portuguese islands were recognized by the European Union as a Quality Coast Platinum destination, for promoting sustainable tourism and traditional culture.
Kastin is currently marketing several books including a new novel titled A Tale of the Azorean Nights, a novel of interconnected stories, and a sequel of sorts to the Undiscovered Island; also, a fictionalized memoir, titled The Iconoclast, about his quixotic days as a San Pedro bookstore owner, in which Los Angeles/John Fante/Charles Bukowski loom large as characters central to the book.
In 2011 he released Portuguese Sea/Mar Português, a CD of original compositions for Portuguese Poetry, in collaboration with his daughter, Shawna Lenore, and Pedro Barroso, a much loved Portuguese songwriter and artist. Lately, he has been working to finish a musical, inspired by Bram Stoker's Dracula, even as he continues to set poetry to music.
For more visit: http://www.darrellkastin.com or https://www.facebook.com/DarrellKastinAuthor