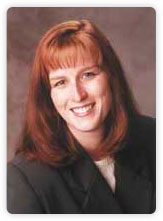 Thousand Oaks, CA (PRWEB) November 18, 2014
Dr. Jacqueline Subka brings dental implants to Thousand Oaks, CA, for those looking for a permanent solution to missing teeth. Implants imitate the performance and the look of natural teeth by anchoring directly to the jawbone. Patients can enjoy the full range of food choices and smile without embarrassment or self-consciousness.
The alveolar bone, also known as the jawbone, holds teeth firmly in place, while the tooth roots stimulate bone health. When teeth are missing, this vital stimulation is lost, causing the bone to deteriorate and resorb into the system. The surrounding teeth no longer have a firm anchor, causing them to loosen, shift and even fall out. Fewer teeth lead to more bone loss, which results in a collapse of the jaw structure and an altered facial appearance.
Bridges and dentures cannot prevent bone loss because they sit on top of the gums. A dentist attaches bridges by filing down surrounding teeth to create a support for the replacement tooth. This weakens otherwise healthy teeth. Dentures are typically held place by a sticky paste, and a patient who wears dentures will notice that they become ill-fitting and uncomfortable as the mouth shrinks. Slipping and clicking occur when the individual talks or eats, and the rubbing and chafing cause sores and ulcers. Both bridges and dentures restrict food choices because of the likelihood that crunchy or chewy textures will cause them to shift or fall out.
Patients in Thousand Oaks, CA can prevent the traumatic results of missing teeth by opting for the security of dental implants, instead. Dr. Subka surgically places titanium posts directly into the jawbone, and during the healing process they fuse with the bone, providing the stimulation and the anchor of the original roots. The crown is then attached to the post, and the patient has a new tooth that looks and functions just as well as the original.
For more information about dental implants or to schedule an appointment, patients in Thousand Oaks, CA can visit Dr. Subka's website.
About the Doctor
Dr. Jacqueline Subka is general dentist offering personalized dental care for patients in Thousand Oaks, CA since 1999. Dr. Subka received her dental degree from the prestigious University of Southern California School of Dentistry in Los Angeles. Dr. Subka practices gentle dentistry and incorporates state-of-the-art techniques to provide the best possible care. She and her team are committed to continuing education and strive to provide high quality, personalized dental care to each patient. To learn more about Dr. Subka and the dental services she provides, visit her website at http://www.subkadds.com or call (805) 373-1919.