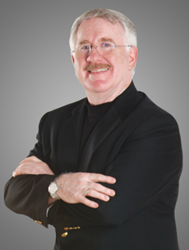 Jim's peerless commitment to serving small businesses and promoting entrepreneurship comes through in everything he does. —Steve Forbes
Vero Beach, FL (PRWEB) November 19, 2014
Leading expert on small business and entrepreneurship and award-winning talk show host Jim Blasingame celebrates the 17th anniversary of the radio program The Small Business Advocate Show. Since November 17, 1997, Blasingame has been the only syndicated host talking to America's entrepreneurs on live radio every weekday. And because of his show's global simulcast since January 1998, he's considered an Internet streaming pioneer. Also this week, Blasingame marks the 15th anniversary of his weekly ezine "The Small Business Advocate NEWSLETTER."
Ron Crider, President of Global American Broadcasting Satellite Network, which has produced Blasingame's show since 2001, said, "Jim is a true professional and one of the most dedicated talk show hosts I've seen in my more than 30 years in radio. Congratulations to Jim and his team on another awesome milestone."
Internationally recognized as "The Voice of Small Business," Blasingame conducts more than 1,000 live interviews annually with his Brain Trust. From these live interviews, more than 2,700 podcasts are produced annually. Blasingame also has video channels on YouTube and Vimeo titled "Three Minutes to Success."
"When we began, we wanted to provide entrepreneurs with the information, resources and inspiration they need to start, run and grow a small business," says Blasingame. "Thanks to the support of our audience, Brain Trust members and corporate partners, we've accomplished that goal and continue to deliver multi-media resources for small businesses, including a new mobile site and our new video series."
"Congratulations to Jim Blasingame on his 17th anniversary," said Steve Forbes, President of Forbes Media. "I've been a member of Jim's Brain Trust for years and he's a great interviewer; but more than that, his peerless commitment to serving small businesses and promoting entrepreneurship comes through in everything he does."
Blasingame is a prolific writer on small business and entrepreneurship. His weekly syndicated column appears in newspapers and business journals, plus online publications, including Forbes.com, FoxBusiness.com, Nasdaq.com, plus his ezine. His third book "The Age of the Customer: Prepare for the Moment of Relevance" was released in 2014. To date, Blasingame's books have sold over 125,000 copies combined. He is also a high-energy keynote speaker, where he teaches big businesses how to speak small business as a second language and small businesses how to compete with the big guys.
"We're very proud of Jim Blasingame's 17 years as the world's leading small business expert, and of our partnership with him for the past 10 years," said Jay Mincks, Executive Vice President of Sales and Marketing at Insperity, Blasingame's presenting sponsor. "As a thought-leader Jim has helped countless entrepreneurs start, run and grow their businesses; as a futurist he helps them see a little farther over the horizon, all of which closely aligns with Insperity's mission."
For his work and leadership on behalf of small business, Jim has received national awards from the U.S. Small Business Administration, American Chamber of Commerce Executives, Association of Small Business Development Centers, FORTUNE Small Business magazine, and New York Enterprise Report. TALKERS Magazine identified Blasingame as one of the most important radio talk show hosts in America.
The Small Business Advocate® Show is the flagship brand of the media company Small Business Network, Inc. (SBN), of which Blasingame is founder and president. SBN produces and distributes multi-media small business resources worldwide. Insperity is the presenting sponsor of all SBN media.
The SBN Web site is SmallBusinessAdvocate.com. The Small Business Advocate® and The Age of the Customer® are registered trademarks of Small Business Network, Inc.